ServiceMaster DRR
Serving San Mateo area 24/7/365
Call: (415) 584-6100
There are so many potential causes of a fire that your home or office could go up in flames at virtually any moment. Fires cause extensive damage in a home including charring, smoke damage, soot, and corrosion and if the restoration does not begin quickly enough after a fire, the damage will continue to get worse until it becomes permanent. ServiceMaster Disaster Restoration and Recovery provides smoke and fire damage restoration services in San Mateo, CA to help clean up and restore homes and buildings that have sustained fire damage. We respond quickly to your fire damage emergencies to prevent the spread of the damage and get the building restored as soon as possible.
The technicians of ServiceMaster Disaster Restoration and Recovery  (DRR) are fully licensed and insured with the training to restore commercial and residential fire losses of any size. We make sure to respond within 1-2 hours of your initial call to limit and reverse the damage before it becomes permanent using the most advanced cleaning products and equipment available. Our cleaning products contain chemical combinations that are effective for removing soot from delicate household surfaces such as brass, aluminum, stainless steel, porcelain, chrome, carpeting, and upholstery.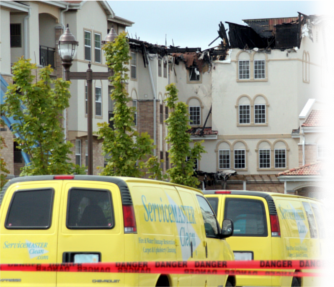 Our 5-step fire damage restoration services include:
Emergency pre-cleaning
Content cleaning
Content pack-out
Wall and ceiling cleaning
Odor removal
What to Do After Fire Damage
Brush away loose soot from the carpet, furniture upholstery, and drapes.
Protect the carpet in the main areas of your home by covering it with an old towel or linen.
Dispose of all open food containers because of the risk of contamination.
Clean out the inside of your refrigerator thoroughly if your power is off.
Submit your smoke damaged clothing to a restoration dry cleaning professional.
Prevent tarnishing and etching by wiping off chrome, porcelain, and Formica surfaces.
Wipe soot from your house plants.
Change the air filter on your furnace if it uses forced hot air.
Tape a damp cheesecloth over all return and supply registers to filter soot from the air.
Reduce the smoke odor by opening your doors and windows if the outside temperature is above 60 degrees.
Fire and Smoke Damage Warnings
Do not try to remove soot from your walls because cleaning up soot improperly will actually make it worse.
Do not clean soot damaged carpeting or upholstery.
Wait until electrical appliances have been inspected and deemed safe before using them.
Do not use ceiling fixtures if the ceiling is wet.
Do not touch soot damaged walls because the natural oils in your hand can penetrate woodwork and drywall to make the damage worse.
Do not eat any food that is possibly contaminated by fire or smoke.
Contact ServiceMaster DRR immediately after the fire is out.
Once the fire is put out, make sure to call ServiceMaster DRR for fire damage restoration services and smoke cleanup. We respond 24 hours a day to fire damage emergencies in San Mateo, CA to mitigate the damage and get your home or building restored quickly. You can reach us at (800) 439-8833 to respond to your fire damage emergency in San Mateo, CA area.
---
Related services:
Fire Damage Restoration – Santa Clara, CA
Fire and Smoke Damage Restoration – Palo Alto, CA
Fire Damage Cleanup Services – San Carlos, CA
Fire and Smoke Damage Restoration Services – Sunnyvale, CA
Fire and Smoke Damage Restoration – Foster City, CA 94404
Smoke and Fire Damage Restoration – Cupertino, CA
Fire Restoration – San Francisco, CA