ServiceMaster DRR
Serving Sunnyvale area 24/7/365
Call: (415) 584-6100
Few disasters are more dangerous than a fire as they can happen at any time and the damage they cause to a home or office can be devastating.  The flames from a fire cause charring to everything it touches and even after the fire is out, the smoke, soot, and corrosive byproducts can continue to cause damage throughout the building.  If the restoration process does not begin quickly enough after a fire has been extinguished, the tarnishing and etching from the soot could become irreversible.  ServiceMaster Disaster Restoration and Recovery provides fire and smoke damage restoration services to help homes and businesses in Sunnyvale, CA that have been damaged in a fire.  Our quick reaction will limit the spread of the damage and help prevent the existing damage from becoming permanent.
Each of our technicians at ServiceMaster DRR is well trained, licensed, and insured to provide complete fire damage restoration services for any size loss in a residential or commercial setting.  Our 1-2 hour response is faster than the industry standard and allows us to help prevent irreversible, widespread damage.  The cleaning products and equipment that we use are the best available in the industry and include chemical cleaners that can restore delicate soot damaged surfaces such as chrome, porcelain, brass, stainless steel, aluminum, carpeting, and upholstery.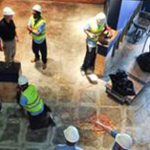 Our fire and smoke damage restoration services include these 5 basic steps:
Emergency pre-cleaning
Content cleaning
Content pack-out
Wall and ceiling cleaning
Deodorization
What to Do After Fire Damage
Remove loose soot by brushing off drapes, carpeting, and furniture upholstery.
Cover your carpeting with old towels or linens to protect it from soot damage.
Throw away open food containers because they may be contaminated.
If you lose power, clean out the inside of your refrigerator thoroughly and leave it open to dry.
Save any smoke damaged clothing for restoration dry cleaning services.
Immediately wipe off Formica, porcelain, and chrome surfaces to prevent permanent soot damage.
Brush any soot off of your house plants.
If your furnace uses forced hot air, you should change the filter.
Cover all return and supply vents with a damp cheesecloth to filter loose soot from the air.
Open the doors and windows of your home if the temperature is above 60 degrees to help eliminate lingering odors.
Fire and Smoke Damage Warnings
Soot damage will become worse if it is cleaned improperly so do not attempt to clean it yourself.
Soot damaged carpeting and upholstery should be cleaned by professionals.
Do not use any electrical appliances until they have been inspected for safety.
Avoid using ceiling fixtures if the ceiling is wet.
Avoid touching woodwork or drywall with soot damage because the oils from your hand can penetrate these surfaces to make the damage worse.
Throw away any food that might be contaminated.
Call ServiceMaster DRR as soon as possible for fire damage restoration services.
Just because the fire is out, that does not mean the damage is done spreading so make sure to call ServiceMaster DRR for fire and smoke damage restoration in Sunnyvale, CA.  Our phone lines are open 24 hours a day and we respond within an hour or two to begin the restoration.  You can call us at (800) 439-8833 for fire and smoke damage emergency services in Sunnyvale, CA and the surrounding areas.
---
Related services:
Fire Damage Restoration – Santa Clara, CA
Smoke and Fire Damage Restoration – San Mateo, CA
Fire and Smoke Damage Restoration – Palo Alto, CA
Fire Damage Cleanup Services – San Carlos, CA
Fire and Smoke Damage Restoration – Foster City, CA
Smoke and Fire Damage Restoration – Cupertino, CA
Smoke and Fire Restoration – San Francisco, CA