ServiceMaster Disaster Restoration and Recovery
Finding fire damage in your home or building is not only traumatic, but also overwhelming to handle; discovering so many building materials and belongings covered in soot or permanently damaged can create massive amounts of stress very quickly. In any case, be sure to call your local fire damage restoration company to start the restoration process right away. ServiceMaster Disaster Restoration and Recovery is available 24/7 in San Francisco, CA and the surrounding areas to provide emergency fire damage restoration services for homes and buildings.
During the recovery process, it's vital not to forget any steps, so here is a list of frequently asked questions about fire damage from our customers.
What Can I Clean by Myself?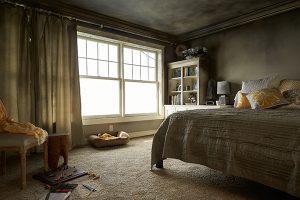 It's frustrating, let alone overwhelming, to find that all your belongings have been damaged by fire and smoke, but the proper training, equipment, and cleaning products are necessary towards restoring everything to their original condition. So, if you do try to clean something yourself, you may only be making the damage worse.
While you are waiting for the technicians to arrive, organize as many items as possible and set aside all items that are urgent for restoration. High-value items like computers and TV's will have priority over glassware for instance. This way, the technicians will know exactly where to start when they arrive.
How Long Will the Restoration Process Take?
The overall time it takes to restore a property will depend on the amount of damage incurred to the property. A fire in a kitchen will take less time to restore than a fire in the living room and bedroom. A commercial building that must pass inspection or neighborhood code will also take longer to restore than a home.
Do I Need to Move Out During the Restoration Process?
This depends on the amount of damage incurred. If there was extensive damage on multiple floors, the structure is not stable, or you are not able to use the utilities, you wouldn't want to stay in the home. But if the fire only occurred in one room, then depending on the smell and noises made from the restoration equipment, you may want to stay at home. It is ultimately your decision whether or not you would like to stay.
What Items Should I Take with Me After a Fire?
All items that you should keep with you at all times include:
Medications
Cash and checkbooks
Personal documents
High-value items like coins, artwork, and family heirlooms
Do I Need to Pack Up My Belongings?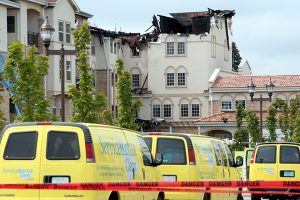 While it's preferred that the items be restored on-site, sometimes this isn't an option. If an item is heavily damaged, or the building is not structurally stable to allow our technicians to work on the property, we will deliver them to our facility.
We will first inventory your items, then pack and transport them to our secure facility to be restored. Sometimes we may call upon the help of a specialized technician for the restoration of high-value items like artwork. In situations like these, we will work with your insurance company to find a trusted professional to complete this project.
Am I Able to Access My Items While They're in Storage?
Yes. We know that having access to documents, clothes, and other belongings is important, especially when dealing with fire damage. Just provide us with an advance notice and we will schedule a time where one of our technicians will help you access them quickly. Please keep in mind that a service fee may apply.
How Do I Inventory the Items that I Need to Replace for the Insurance Company?
You shouldn't have to go into great detail, but make a list that breaks down the item, quantity, year purchased, and the price. Something like this for example:
2 boxes of Pop Tarts; 24 ounces; 2019; $6.00
Dog toys; 2018; $20
This provides the insurance company with the information needed to estimate the total losses for the claim. Don't forget that it's important to note the total losses after the disaster, as even the small things like food and toiletries will add up when you replace them. Make sure to make a copy for yourself as well.
When Can I Turn on My Air Conditioner Again?
Do not turn on the HVAC system until it's been inspected by an HVAC professional. The system may have been damaged during the fire, even without your knowing, and turning it on can be dangerous and cause more damage. Another problem could be that it can blow smoke and soot into your home.
Fire Damage Repair and Costs
We like to be prepared for the worst, but we never expect it to actually happen. Knowing exactly what to do in these situations can mean the difference between a few hours and a few days of restoration work. The most important action to take is to call your local fire damage restoration company.
ServiceMaster Disaster Restoration and Recovery is available in the San Francisco, CA area to assist home and building owners with emergency fire damage restoration services. Our technicians are equipped with years of training and experience in order to restore building materials and belongings to their original condition. We can also provide supplemental services like reconstruction and water damage restoration, depending on your situation, so you don't have to worry about working with multiple contractors.
Emergency Response
Call ServiceMaster Disaster Restoration and Recovery at (800) 439-8833 for emergency fire damage restoration services in the San Francisco, CA area. We are available 24/7.