ServiceMaster DRR
Serving San Francisco area 24/7/365
Call: (415) 584-6100
As a ServiceMaster Restore Quality Restoration Vendor, we have completed intensive mold remediation training and received instruction in the proper procedures for handling mold claims. We are prepared to handle small (10 square feet or less) and isolated areas affected by mold that may be encountered in the course of normal water damage mitigation services. In addition, ServiceMaster Restore specializes in handling large mold jobs in San Francisco, CA which require additional training and certifications through the following agencies: The Institute of Inspection, Cleaning and Restoration Certification (IICRC), Applied Microbial Remediation Specialist (AMRS), Interactive Occupational Training for Mold Remediation (IOT) and the Indoor Air Quality Association (IAQA).
Watch ServiceMaster Video for more information on Mold Remediation in San Francisco, CA
Contact Service Master 24 hours a day at (415) 584-6100 for Mold Remediation in San Francisco, CA, and the surrounding areas.
A House with Mold
Mold usually grows in warm, humid conditions, mainly around showers, dishwashers, washing machines, kitchens, etc., spores and released into the air. This is also a major component of dust in homes and workplaces.
When inhaling mold, the body has the same reaction as inhaling dust and pollen. Mold spores formed in large quantities will cause health problems such as allergies and respiratory diseases. respiratory symptoms such as sneezing, sore eyes, headache, fatigue, joint pain, hives, cough, asthma, and nausea. Some molds also produce mycotoxins – which cause serious harm to human and animal health. Exposure to high concentrations of mycotoxins can lead to neurological problems and even death.
The group of people at high risk of health problems due to mold are children, the elderly, and people with low resistance. People with certain diseases such as cystic fibrosis and chronic pneumonia can develop immune system infections if they breathe in certain types of molds.
Mold Removal in San Francisco, CA

ServiceMaster's InstaScope mold detection instrument is a revolutionary new way to detect airborne mold levels in your home or building.
In larger damage situations like flooding or broken pipes, mold may never become visible, since it can grow in the walls and under the floor. Left untouched, this can cause serious structural damage. Bleach will not kill this mold and stop its growth. Let ServiceMaster Restore take the lead on mold remediation to complete the job as fast as possible. We'll help you prevent long-term damage and get your home back to being safe and healthy.
Our complete mold remediation services in San Francisco, CA, include:
Implement assessment of the mold growth
Report the assessment to your insurance company
Create a mold removal plan based on the assessment
Complete remediation of the mold growth areas
Frequently Asked Questions About Mold Damage
It's important to note that the actual cost will depend on various factors, including the size of the affected area, the severity of the mold growth, the accessibility of the mold, the type of mold present, and the necessary remediation techniques. These factors can influence the complexity of the remediation process, the amount of labor and materials required, and the duration of the remediation project. On average, mold removal can range from $10 to $30 per square foot.
In California, the cost of professional mold remediation can vary depending on several factors. On average, the cost for mold remediation ranges from $1,500 to $9,000, with an average cost of around $3,500. However, it's important to note that these figures are estimates and can differ based on the specific circumstances of the mold issue.
Due to the potential health risks associated with black mold, it is generally safer to seek assistance from professionals like ServiceMaster. This is particularly important if individuals in the household have respiratory conditions such as asthma or allergies. Experts with experience in handling black mold should be entrusted with addressing infestations due to the potential harm they can pose to human health.
Contact ServiceMaster for Mold Remediation in San Francisco, CA
If you're unsure of mold damage, don't hesitate to act. Let ServiceMaster Restore assess the situation and determine the best course of action that will prevent costly, long-term damage to your home. For professional mold removal services in San Francisco and throughout the Bay Area, call us at  (415) 584-6100!
---
Related services:
Mold Remediation Services – Santa Clara, CA
Mildew Mold Remediation – San Mateo, CA
Mold Remediation – Palo Alto, CA
Mold Removal Services – San Carlos, CA
Mold Removal – Sunnyvale, CA
Mold Remediation Services – Foster City, CA 94404
Mold Testing and Remediation – Cupertino, CA
---
Related Blogs:
If the possibility of drinking coffee from a machine that has mold inside it is disturbing, there are some simple routines you can follow to clean your K-Cup or Keurig machine to prevent mold growth and bacteria.
Mold thrives in areas with warm temperatures, moisture, and poor air circulation, so you need to be wary of the potential for mold growth in areas with these conditions. As such, it is not uncommon to find mold in basements, bathrooms, kitchens, and laundry rooms on walls and ceilings, between tiles, and on caulking.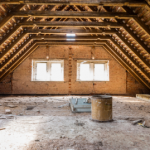 There are thousands of different mold species, and not all of them are bad. But the white mold that homeowners can encounter in the attic does have negative effects. Sometimes the white mold will be a species that remains white throughout its lifecycle, but others will only appear white in color at first, eventually changing colors as the colony develops further.
---
Reviews:
Review by Jessica H.
Disaster Restoration
Rating

"Service Masters was great! I had never used their service before and had a sewage back up in my commercial space. They arrived in 2 hours. Explained what their process was. What each step would be and took great care of the situation. I have used them several more times and will definitely be using them again. Customer service was on point. The work was on point! The employees are on point! Correction Service Masters have wonderful employees!"
---
Review by Jennifer N.
Disaster Restoration
Rating

"Service Master did A phenomenal job when we had a major flood in our apartment complex. Farmers insurance recommended them and I have nothing but positive things to say. They were extremely quick and efficient coming in and getting everything ready for the abatement team. I highly recommend them!"