ServiceMaster DRR
Serving San Mateo area 24/7/365
Call: (415) 584-6100
There are so many potential causes of a fire that your home or office could go up in flames at virtually any moment. Fires cause extensive damage in a home including charring, smoke damage, soot, and corrosion and if the restoration does not begin quickly enough after a fire, the damage will continue to get worse until it becomes permanent.
ServiceMaster Disaster Restoration and Recovery provides smoke and fire damage restoration services in San Mateo, CA to help clean up and restore homes and buildings that have sustained fire damage. We respond quickly to your fire damage emergencies to prevent the spread of the damage and get the building restored as soon as possible.
Fire Damage Restoration in San Mateo, CA
The technicians of ServiceMaster Disaster Restoration and Recovery  (DRR) are IICRC-certified, fully licensed, and insured with the training to restore commercial and residential fire losses of any size. We make sure to respond within 1-2 hours of your initial call to limit and reverse the damage before it becomes permanent using the most advanced cleaning products and equipment available.
Our fire cleaning products contain chemical combinations that are effective for removing soot from delicate household surfaces such as brass, aluminum, stainless steel, porcelain, chrome, carpeting, and upholstery.
Our 5-step fire damage restoration services include:
Emergency pre-cleaning
Content cleaning
Content pack-out
Wall and ceiling cleaning
Odor removal
Watch ServiceMaster Video for more information on Smoke and Fire Damage Restoration for San Mateo, CA
Contact Service Master 24 hours a day at (415) 584-6100 for Smoke and Fire Damage Restoration for San Mateo, CA, and the surrounding areas.
Brush away loose soot from the carpet, furniture upholstery, and drapes.
Protect the carpet in the main areas of your home by covering it with an old towel or linen.
Dispose of all open food containers because of the risk of contamination.
Clean out the inside of your refrigerator thoroughly if your power is off.
Submit your smoke damaged clothing to a restoration dry cleaning professional.
Prevent tarnishing and etching by wiping off chrome, porcelain, and Formica surfaces.
Wipe soot from your house plants.
Change the air filter on your furnace if it uses forced hot air.
Reduce the smoke odor by opening your doors and windows if the outside temperature is above 60 degrees.
Fire and Smoke Damage Warnings
Do not try to remove soot from your walls because cleaning up soot improperly will actually make it worse.
Do not clean soot damaged carpeting or upholstery.
Wait until electrical appliances have been inspected and deemed safe before using them.
Do not use ceiling fixtures if the ceiling is wet.
Do not touch soot damaged walls because the natural oils in your hand can penetrate woodwork and drywall to make the damage worse.
Do not eat any food that is possibly contaminated by fire or smoke.
Contact ServiceMaster DRR immediately after the fire is out.
Contact Us for Fire Restoration in San Mateo, CA
Once the fire is put out, make sure to call ServiceMaster DRR for fire damage restoration services and smoke cleanup. We respond 24 hours a day to fire damage emergencies in San Mateo, CA to mitigate the damage and get your home or building restored quickly.
You can reach us at (800) 439-8833 to respond to your fire damage emergency in San Mateo, CA area.
---
Frequently Asked Fire Damage Questions
Fire damage refers to the destruction and harm caused to a property as a result of a fire. Fire restoration encompasses a series of steps aimed at evaluating the extent of the damage, securing the property, and restoring it to its pre-fire condition.
Throughout the process, fire restoration professionals work closely with the property owner and insurance providers to ensure a smooth and efficient restoration process. Their goal is to bring the property back to its original state, minimizing the impact of the fire and enabling the occupants to return safely.
Fortunately, in most cases, home insurance policies provide coverage for fire damage to both the structure and personal belongings. However, it's important to be aware of certain situations where your insurance provider might not cover the losses.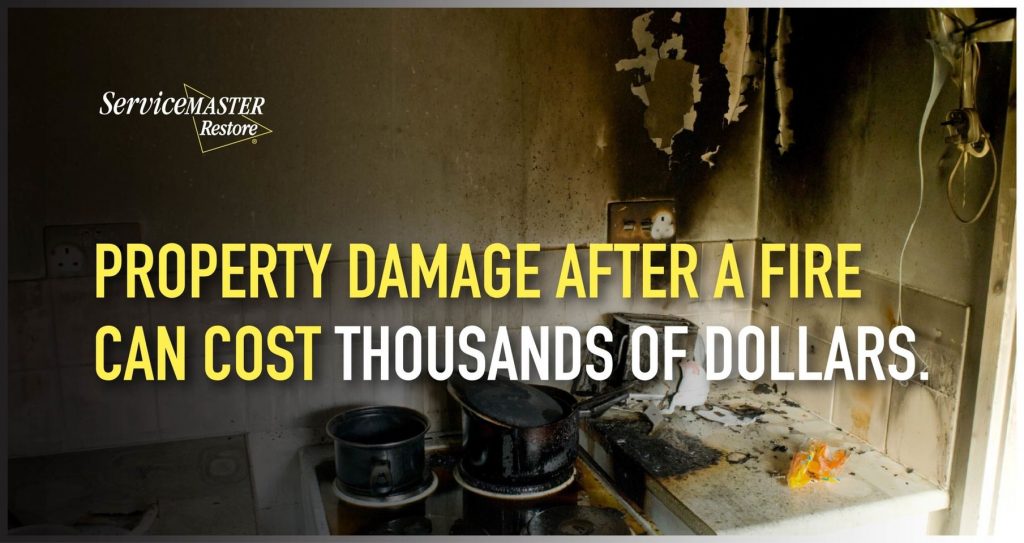 It's important to understand that each fire damage situation is unique, and the timeline for restoration is influenced by factors such as the size of the property, the extent of the damage, the availability of materials and contractors, and the complexity of the restoration work required.
On average, the restoration process can range from a few weeks to several months. For minor fire damage, restoration efforts may be completed within a few days. However, in cases of extensive damage, particularly in severe residential incidents, the restoration process may extend up to a year.
Related Fire Damage Restoration Services:
Fire Damage Restoration – Santa Clara, CA
Fire and Smoke Damage Restoration – Palo Alto, CA
Fire Damage Cleanup Services – San Carlos, CA
Fire and Smoke Damage Restoration Services – Sunnyvale, CA
Fire and Smoke Damage Restoration – Foster City, CA 94404
Smoke and Fire Damage Restoration – Cupertino, CA
Fire Restoration – San Francisco, CA
---
Reviews:
Review by Jason G.
Fire Damage Restoration
Rating

"A client/friend's house caught fire the other day and every time this happens, it is always a very traumatic experience. The devastation on their faces and their be-wilderness is a very common reaction. The feeling of loss and being lost is understandable, so it is during these occasions where I have to be there for them.
The first thing I did was to calm them down and called Servicemaster. They do mostly restoration and clean up after a fire/flood/water damage etc. They are not general contractors. They only clean up, restore, and house your personal belongings at their storage facility. They will store it there until the house is back to live able condition. Best of all……….the insurance company will pay for it.
They can usually get to a place within 3 hours of the loss. They are very efficient."
---
Review by Alanna Z.
Fire Damage Restoration
Rating

"Steve and his crew are committed to excellence and made every effort to make sure my estate condo extreme clean-up and recovery process was complete and to my satisfaction. They handled everything including an inventory and sale of items with respect, care and professional expertise and courtesy. They are a business you can trust and rely on. Simply the Best!"