ServiceMaster DRR
Serving San Mateo area 24/7/365
Call: (415) 584-6100
ServiceMaster DRR in San Mateo, CA is on call 24 hours a day, 365 days and we offer the disaster restoration and recovery services listed below. Call us at (800) 439-8833!
We always help our customers right away when a disaster hits. We respond within 1-2 hours in San Mateo, CA and the surrounding areas.
There are many things that can cause water damage including floods, leaks in the home, and even a broken sump pump. Usually, water spreads rapidly and can be costly to fix. This makes it important to call our professionals at ServiceMaster DRR for water damage restoration services in San Mateo, CA. We will respond immediately to stop the water from spreading and restore the damage.
Fires can cause immense damage to homes and buildings very quickly. Even after a fire has been put out, smoke and soot can cause further damage to your property. Our highly trained technicians can help remediate the damage. We provide complete fire damage restoration and recovery in San Mateo, CA to help affected homes and businesses after a fire.
When a traumatic event happens, you need a fast response from professionals. Violent crimes and serious accidents that result in an injury or death are overwhelming and create a dangerous situation. ServiceMaster DRR provides trauma and crime scene/ vandalism cleaning in San Mateo, CA. Our skilled technicians will help you during this stressful time.
We know that it is difficult for hoarding individuals to start the cleaning process at their property. It is important to approach these situations delicately and only begin the cleaning once the affected individual is ready. At ServiceMaster DRR, we provide hoarding and estate cleaning services in San Mateo, CA. Our staff is trained to help and provide comfort and compassion to individuals affected by hoarding.
The damage caused by a natural disaster can be devastating to businesses because of the cost of the restoration and interruption of business activities. It is important to make sure that the property is restored immediately to limit the damage and downtime and restore safe working conditions. ServiceMaster DRR provides Disinfection and Cleaning Services to help businesses in San Mateo, CA. We will repair the damage and remove dangerous materials and foul odors for a safe working environment.
Disaster aftermath inevitably comes with the destruction of houses and tangible assets. It is overwhelming and confusing where to start for reconstruction. If you found your properties in need of reconstruction, ServiceMaster DRR can help. ServiceMaster DRR technicians are highly experienced in construction services in San Mateo, CA. Our reconstruction plan will simplify the process, and effectively achieve your expectation. We have a solid team of carpenters, handymen, subcontractors, and restoration specialists to recover your home and provide support every step of the way.
Sewage contains various toxins and polluted components. If you don't handle wastewater quickly and properly, the damage will potentially spread further and more severely. No matter how extensive the damage become, ServiceMaster DRR can fully extract water from your property with advanced dehumidification equipment. ServiceMaster DRR provides comprehensive sewage cleaning in San Mateo, CA. We guarantee to implement a safe and efficient water mitigation process to return your house to its previous condition.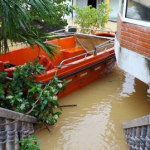 Natural disasters like storms and floods, in many cases, cause not just one but several types of damage. ServiceMaster DRR is IICRC Certified and can fully take care of them all from water damage, and mold remediation to reconstruction. ServiceMaster DRR provides flood damage cleanup for houses and businesses in San Mateo, CA. Our technicians are highly experienced and equipped with water extraction machines, air removers, dehumidifiers, floor mat systems, and hydroxyl technologies to proficiently dry out your properties.
Moisture can cause mold to grow. This is a serious issue as it spreads quickly throughout your home. The damage caused by mold will only get worse until it is removed. ServiceMaster DRR provides mold remediation services in San Mateo, CA. We will inspect your property, remove all mold growth, and deal with the root of the problem.
Contact ServiceMaster DRR for professional Disaster Restoration in San Mateo, CA
You can also expect the following with our disaster restoration services in San Mateo, CA:
We use the ultrasonic cleaning system and green cleaning
We can remove odors with advanced deodorization methods
We specialize in upholstery cleaning
We help with insurance claims and electronic claim processing
We use structural drying
We offer post-construction clean-up
You can expect us on site within 2-4 hours
We have emergency service available 24/7/36
Pack Out/ Inventory and storage services: We have 156 storage vaults capacity and 28,000 square footage warehouse available for contents restoration and storage
We are ready to respond to emergencies in San Mateo, CA. You can call us 24 hours a day at (415) 584-6100 for emergency disaster restoration services.