ServiceMaster Disaster Restoration and Recovery
As many property owners are aware, water can cause severe structural damage to your home or building. There are many ways that it can occur, which makes it the most frequent disaster. Thankfully, homeowner's insurance will cover most cases, but only if the proper steps are taken to prevent the damage from spreading in the moment.
Here's a list of frequently asked questions from our customers regarding water damage:
Who Should I Call First When I Find Water Damage?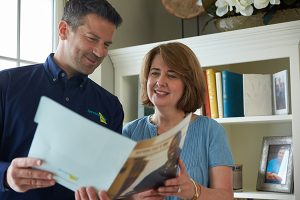 Always call your water damage restoration company before the insurance company. This is because the damage will spread the more time it is given. ServiceMaster Disaster Restoration and Recovery is available 24/7 to address water damage repairs for homes and buildings in San Francisco, CA and the surrounding areas. As soon as we arrive, we can prevent additional destruction and even mold growth, saving time and money in restoration efforts.
Don't forget to call your insurance company to file a claim, but you shouldn't wait for the adjuster to arrive before calling for emergency restoration services.
What Causes Water Damage?
Water damage can occur in a variety of ways. Everything from flooding from natural disasters like hurricanes or floods to pipe bursts and leaks from the plumbing system ca result in water damage. Let's also not forget leaking appliances like dishwashers, refrigerators, water heaters, and washing machines that can leak water into hidden areas.
To make matters worse, sewage lines can backup, pooling into your home or building and causing severe damage. If gutters or drains are clogged, excess water can spill over, seep into your foundation, and flood the home. Poorly constructed bathtubs or those that need the grout replaced also allow for water to seep in, creating a big risk for mold growth.
What is Involved in Water Damage Restoration
There are multiple steps included in water damage restoration. They include all of the following:
Remove all standing water from the flooring, carpet, and other materials.
Dehumidifiers and specialty equipment are installed to dry out the remaining areas. This can take multiple days, depending on the severity of the damage.
ServiceMaster Disaster Restoration and Recovery uses moisture meters and thermal imaging cameras (when necessary) to ensure the entire home or building is dry.
Removal of soiled drywall, carpet cleaning, repairing of wood floors, deodorization, air duct cleaning, and mold removal, as needed.
What Do I Do if My Crawl Space is Flooded?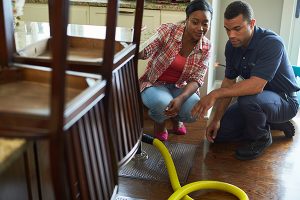 Your crawl space is the area below the home that allows plumbers and electricians to reach the pipes and electrical wiring. If this area becomes flooded, the water damage restoration contractors will advise you according to the cause of the disaster.
If a sewage backup is involved, the cleaning professionals will use a sewer gas evacuator to eliminate the issue. If the area is affected by mold, ServiceMaster Disaster Restoration and Recovery will take all necessary steps to have it remediated. Our team is experienced and licensed to provide professional mold removal services.
What are the Common Effects of Water Damage?
Common effects of water damage include the following:
Ruined property, decreasing its overall value
Hefty costs in water damage restoration
Chipping of the paint and wallpaper
Destroyed carpet and rotting wood floors
Mold growth in hidden areas
Mold threatening negative health issues for everyone on the property
How Much Does Water Damage Restoration Cost?
The cost of water damage restoration depends largely on the size of the affected area and how long it takes to repair it. If the damaged area is covered under homeowner's insurance, you will typically only be paying the deductible.
Water can move very quickly and if it's not removed with professional equipment, you can be looking at mold growth and permanent structural damage. But when addressed professionally, water damage repairs can take multiple days that involve long labor hours to finish.
Water Damage Restoration
When restoring water damage, it's important to rely on the help of a trusted and licensed company. The technicians at ServiceMaster Disaster Restoration and Recovery are available 24/7 in San Francisco, CA and the surrounding areas to provide everything from water damage restoration to mold removal. Regardless of the property size, we can handle the job, using both years of experience and professional products and equipment to restore your property to its original condition.
Any lingering odors like musty smells can also be removed using our deodorizing technology. These odors may not be harmful, but they can be annoying as they make it difficult to focus on anything.
Available 24/7
Call ServiceMaster Disaster Restoration and Recovery at (800) 439-8833 if you have recently experienced a water damage emergency near the San Francisco area.