Preventing fires is an important part of fire safety. In the United States, cooking is the main cause of home fires. Cigarettes are a big risk too – they are the leading cause of fire deaths. Here are some fire safety do's and don'ts.
Make sure you have smoke alarms on at least every level of your home.
Smoke alarms save lives, but only if they're working. Test them regularly.
Plan your escape route and make sure everyone knows how to get out in a fire.
Take extra care in the kitchen and never leave cooking unattended.
Do not overload electrical sockets and watch out for faulty and over-heating electrical equipment and wiring/cables.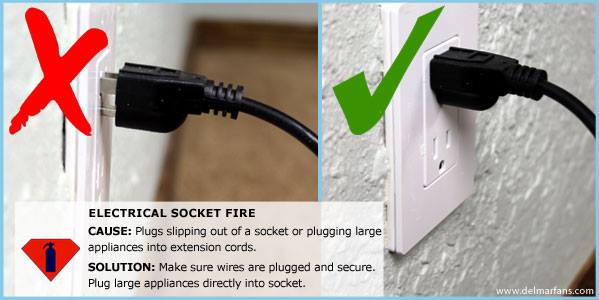 Living and Family Rooms Fire Prevention Tips
Keep portable space heaters at least 1 meter (3 feet) away from anything that can burn. Always turn heaters off when you go to bed or go out. Never leave children alone in a room with a portable heater or wood stove operating.
Use a metal screen on your fireplace.
Have your chimney professionally checked once a year and cleaned when necessary.
Use only the correct fuel for heat: aged wood in fireplaces and wood stoves and only kerosene in kerosene heaters. Refuel a heater in a well-ventilated area, after the heater has cooled.
Keep lighters and matches up high, preferably in a locked cabinet, where young children can't see or reach them.
Use extreme caution with cigarettes! Provide large, deep ashtrays for smokers. Check for shouldering cigarettes under cushions of couches and chairs before you go to bed or leave your home.
Make sure TVs and stereos have space around them to prevent overheating.
Kitchen Safety:
Never leave cooking unattended.
Keep anything that can catch on fire (oven mitts, wooden utensils, food packaging, towels, etc) away from your stovetop.
Don't wear loose fitting clothing and be careful not to reach over hot burners.
If a pot catches fire, cover it with a lid to smother the flames and turn off the burner.
Keep pot handles turned inward.
Do not cook if you are sleepy, have been drinking alcohol, or have taken medicine that makes you drowsy.
Keep children away from cooking areas by enforcing a "kid-free zone" of 3 feet around the stove.
Position barbecue grills at least 10 feet away from siding and deck railings, and out from under eaves and overhanging branches.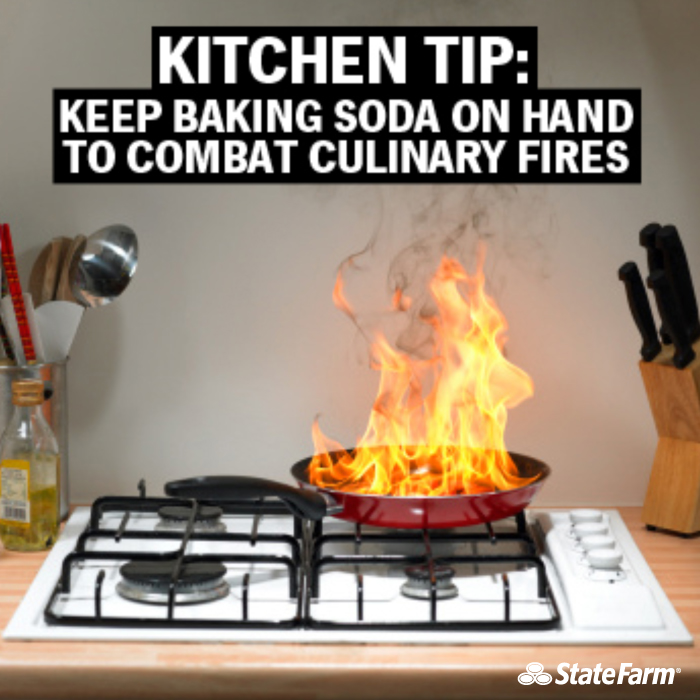 Consider these statistics:
Cooking is the leading cause of home structure fires and fire injuries, and kitchens are the leading area where fires start.
Few fires, statistically, start in the living room, family room or bedroom.
Smoking is the leading cause in civilian home fire deaths.
Peak hours for home structure fires are between 5 and 8 p.m.
Three out of five fire deaths came from homes with no smoke alarm.
Use Appliances Wisely:
Read the manufacturer's instructions and safety warnings for all appliances and follow them closely.
Register all new appliances immediately so you can receive recall information.
Act on product recalls immediately.
Review product safety complaints for the appliances you have in your kitchen to assess potential hazards.
Clean your range hood of grease buildup regularly.
Inspect the power cords on all appliances regularly and replace them if they are frayed.
Store small appliances unplugged.
Completely cool small appliances before storing them.
Don't use extension cords. Plug appliances directly into outlets.
Keep all appliances clean and free of crumbs, grease, and other food debris.
Have appliances serviced regularly to keep them in good working condition.
Tips for portable heaters:
Make sure someone is always in the room when a portable heater is used.
Make sure that your portable heater will automatically shut off if tipped over.
Keep children away from portable heaters.
Keep portable heaters at least 3 ½ feet away from anything in the room.
Correctly install and maintain portable heaters by carefully reading the manual.
Clothes dryer tip:
Prevent house fires. Clean the lint from inside your clothes dryer as well as lint caught in the exhaust vent.
Built-up lint inside dryer cabinets causes more than 15,000 fires every year. Lint escapes through tiny gaps around the edges of the dryer drum and falls into the cabinet, especially when the exhaust vent or vent cap is clogged and airflow is restricted. The lint can get ignited by electric heating elements, gas burners or even a spark from the motor, and the flames then travel through the lint-lined exhaust vent. To make sure this doesn't happen in your house, check the exhaust vent and the inside of the cabinet frequently.
Clean the lint screen after each load.
Never leave your home with the clothes dryer running.
Dryers must be vented to the outside and not within a wall or attic.
Make sure all pockets in clothing are clear of any synthetic material, plastic, or rubber.
Make an escape plan
Work with your family to plan how to get out of your home if there is a fire.
Plan two ways out of every room. (The first way out should be a door.)
Choose a meeting place. Pick a safe and easy-to-remember spot outside your home where you will meet your family after you get out.
Practice! Every escape path needs to be planned and practiced with family.
Test smoke alarms. Help remind to test smoke alarms monthly and to put in new batteries twice a year when the clocks change.
If your home or business in San Francisco has been damaged in a fire, do not hesitate to contact ServiceMaster of San Francisco as soon as the fire is extinguished. We can be reached 24 hours a day at (800) 439-8833.