Giving back at Christmas
The holidays bring up a variety of emotions for people, and if there's a hoarder in your life, it might be a difficult time. He may feel guilty because the home is so cluttered, he can't have anyone over to celebrate. She may feel sad because she doesn't have enough money to buy gifts, even though there are many unused items in drawers and closets, some still in boxes, that could easily be sold or passed on. This may be a good time to discuss decluttering once and for all.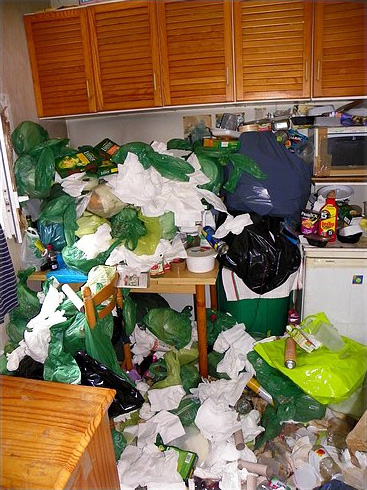 Remember, this isn't just a case of being untidy. Having piles of items everywhere is a health hazard; restricted paths through rooms increase the risk of fire or cause delays escaping one. They can contribute to the growth of mold and mildew. Dust can lead to breathing problems. Rodent and insect infestations are common, and bring their own health problems.
Going in and just taking everything out may seem like a solution, but it's temporary and will only antagonize the hoarder. Work with him to develop a plan. Suggest that by going through things, not only will the house be neater, but others can benefit from items that are otherwise going to waste. Decide what should be kept, thrown away, sold or donated. This might be the hardest part, but it can be the most rewarding, emotionally and financially. Dressy clothes can be donated to groups that help people find jobs. Jewelry can be sold or handed down to family members, but be sure to have it appraised first. Profits can be used to buy holiday gifts, take a long awaited vacation or donated to a favorite charity.
Once the excess is gone, give the home a thorough cleaning or, if the situation is serious enough, arrange for a professional cleaning. Once the house is sparkling clean, work with the now-reformed hoarder to maintain it. Make sure there are plenty of cleaning supplies on hand, such as disinfecting wipes, paper towels and spray cleaners. It's easier to keep things tidy if cleaners are handy. Drop by now and then for visits to check in.
Help a Hoarder
If you have a loved one who's a hoarder in Cupertino, CA or the surrounding area, call the experts at ServiceMaster DRR Hoarding and Estate Cleaning Services. Their courteous professionals will work with individuals to save valuable items like jewelry, or take items to friends and family or designated charities. All unwanted items will be removed.

Hoarding Cleaning Costs
Prices for cleaning vary widely, depending on the severity of the hoarding and the size of the home. Matt Paxton, an expert featured on "Hoarders" on A&E charges $1,000/day to start. Other estimates range between $10-20,000.
---
Hoarding estimates – Get a Quote Online
---