Dealing with the aftermath of a fire is a stressful and overwhelming process – you'll be confused and upset and will probably feel at a loss as to what to do, where to begin, and who to call for help.  Knowing how to address the issue and what measures to take after such a dangerous and devastating incident, however, is a crucial first step in putting your life back together.
To help you in such a difficult time and hopefully provide comfort in the knowledge that the problems can be solved, we've compiled some of the most frequently asked questions about fire damage restoration – and their answers:
What to Do After a House Fire?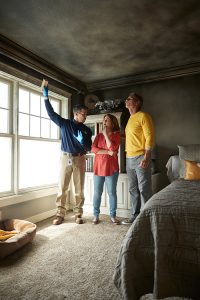 A house fire is quite a terrifying experience, but once you're certain that you and your loved ones are safe and sound, you need to turn your attention to your property and try to salvage as much of it as possible. Keep in mind though that you need to wait until a fire marshal has declared the area safe before you can re-enter your home. (In the event of a severe fire, you might need to call a structural engineer to determine the integrity of the house before anyone goes in.)
Be aware of safety hazards – dangerous debris, frayed electrical cords, live wires, poor air quality, unstable structural elements, etc. Be sure to wear protective clothing (sturdy boots, rubber gloves, safety goggles, a hard hat, a face mask) when entering your home and do not turn on your heating system or air conditioning unit without clearance from your HVAC contractor;
Document the damage – Take pictures and videos of your damaged property and do not be quick to throw out burnt or broken items (the insurance company's representatives may want to see them);
Save undamaged items – Any items that seem to be in good condition should be taken someplace safe, as leaving them in the affected area may cause them to get damaged (water damage from the water remaining from the firefighting efforts, soot damage, etc.) and may make it difficult for the cleanup and repair crews to work. Your best option is to put them in storage until they can be properly cleaned (even if the items were not damaged by the flames, they may be covered in soot or smoke residue) and your home is fully restored;
Make a list of the items that were lost or damaged in the fire – include the brand name, make, model, and/or serial number of every piece (as applicable), its age and current condition, the price you paid for it (if the item was a gift, indicate that), as well as the replacement cost and the actual cash value of individual items. You will need to inventory non-restorable items, such as food items or paper items, for the insurance company as well – list the name and quantity of the lost item, the year when it was purchased, and an estimate on its price;
Call your insurance agent – Describe the incident in detail and discuss your options with the insurance specialists. The adjusters will typically come to see the loss within 24 to 48 hours after the fire claim is reported – so, the sooner you alert your insurance provider, the sooner you'll be able to begin the restoration process;
Secure your home – Fires often damage doors and windows, leaving the home open for anyone who may want to enter – and thieves know that they're likely to find items that can be salvaged and sold inside. While your property may be badly damaged by the fire, you probably don't want people breaking in. So, one of the first things that you'll need to do after the fire department leaves your home is board up any broken doors and windows (use plywood with bolts) and/or install security locks to prevent vandalism and protect your personal belongings;
Call experienced fire damage restoration professionals – The pros will help you secure your home, assess the damage and provide you with accurate cleanup and restoration estimates, and assist you in documenting damaged contents and filing a claim with your insurance company. They will not only provide quality fire damage restoration services (fire damage cleanup, water removal and drying, board-up and pack-out services, reconstruction and repairs, smoke odor removal, etc.), but will also work with your insurance company to ensure a timely and satisfactory settlement of your claim.
What To Do After a Fire – Video
---
Good to know: Your insurance provider will recommend contractors and cleaning vendors, but you are not obliged to use their services. You can try to find a more reliable, more experienced, or better equipped restoration and cleaning company. Research your options, ask for recommendations, read customer reviews, and get estimates from at least three or four reputable fire damage restoration companies in your area in order to choose the specialists that best suit your particular needs and requirements.
---
How to Clean up After a House Fire: Can I do it myself?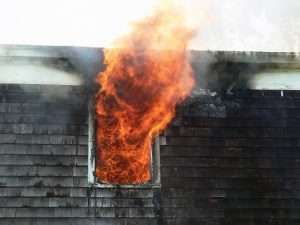 Cleaning up after a fire is a tricky process that's better left to the professionals. Even if your home did not sustain major damage and it seems like you can clean up by yourself, it is easy to make inadvertent mistakes that can have severe consequences:
Even if the fire is confined to one room, smoke travels throughout the home and leaves residue on all surfaces it comes in contact with – walls, curtains, carpet, furnishings, etc. If you miss an affected area when cleaning up the damage, the remaining smoke residue may cause a subsequent fire. Your insurance company may even dispute your claim, arguing that your own negligence was a contributing factor to the second fire. The experts use specialized tools and cleaning techniques to ensure that your home is completely free of smoke residue to prevent such trouble;
Every material has its own characteristics and specific cleaning requirements. If you use inappropriate cleaning agents or incorrect dilution rates, you may cause further damage to your home and your items. The pros pretest cleaning products to identify the right cleaning solutions for every household surface and each individual item. Besides, they know the safest and most efficient cleaning techniques for different types of items, so you can rest assured that your belongings will be properly treated and well cared for;
The cause of the fire and the type of items that were burnt will affect the nature of the cleanup process as they determine the type of residue left behind. The professionals know how to address each situation in order to achieve the best possible results:
If the fire involved natural substances like paper, wood, and other organic materials, the smoke residue can usually be removed by using a specialized vacuum, appropriate chemicals, and a dry chemical sponge, but the cleanup may also require thermal fogging or ozone regulation;
If the fire involved protein-based substances, like chicken and beef, there will be a greasy film on surrounding walls and floors. The grease can sear onto surfaces and will require powerful chemicals to remove;
If the fire involved plastic or other synthetic materials, the cleaning process will require specialized equipment and techniques;
If the fire involved oils, the particles will have traveled great distances through the air and got into the HVAC system, distributing the residue throughout the house. This type of residue is difficult to identify and remove without professional help.
Special equipment is required for proper drying, cleaning, and deodorization. You can buy or rent the necessary tools, but they're difficult to find and may cost a lot. The professionals will bring the needed equipment and will know how to use it the right way;
Smoke smell is very persistent and difficult to get rid of – smoke particles are small enough to go anywhere, even inside wall cavities. If you don't manage to remove all smoke particles from your home when cleaning it after a fire, the smell will linger for a long time. The pros mix deodorizing agents with the cleaning solutions and they have specialized deodorization equipment that can help completely remove the smoke smell;
There are many safety concerns after a fire, so you risk getting hurt if you try to clean up your home yourself. The trained specialists know how to perform the cleanup safely and efficiently.
Even small fires can cause major damage and leave lingering odors if not cleaned up properly. If you don't act within a day or two, the soot and smoke can leave permanent damage. Most people don't have the training, equipment, or cleaning products to deal with the situation. Trying to clean something by yourself can ruin something that could have been salvaged by an expert – professional fire damage restoration companies, like ServiceMaster DRR, have specialized cleaning products, state-of-the art cleaning equipment, and experienced, skillful technicians who know how to address the situation in the safest and most efficient way possible. Therefore, professional cleanup gives you the best chance for complete restoration of your property and your belongings.
What is Included in the Fire Damage Restoration Process?
The first step in fire damage remediation is to perform a home inspection and make a comprehensive assessment of the sustained damage. A licensed inspector will come to your home to identify the affected areas, create a remediation plan, and provide you with a cleanup and restoration estimate. When the plan is approved, your hired restoration company will begin the remediation process:
Any standing water from the fire extinguishing process will be removed and the premises will be fully dried, so you don't have water damage and mold issues in the future;
The soot will be brushed and scrubbed from every surface;
Specialized cleaning products will be used to deep-clean and sanitize the affected areas;
The smoke odor will be removed with the help of Nano filters, air scrubbers, ozone generators, hydroxyl technology, etc.;
Any necessary reconstruction and fire damage repairs will be performed in a quick and efficient manner. General contractors may be needed for some of the work, such as drywall, painting, electrical, plumbing, roofing, flooring, installation of doors and windows, framing, etc.;
Salvageable damaged items will be restored – either on-site or in specialized facilities.
The specifics of the fire damage restoration process will depend on the type of affected household materials and items and the extent of the damage.
Fire Restoration – What Happens During Service – Video
What Will Happen to My Belongings? Do They Need to Be Removed from my Home?
All reliable fire damage restoration companies have trained and experienced technicians who can identify items that can be cleaned and restored and items that must be replaced. At ServiceMaster DRR, we can salvage most fire-damaged household items, but some are simply beyond repair. We create a list with salvageable and non-salvageable items and present it to you – after we get your approval, we submit the list to your insurance provider along with all the relevant pictures and documentation.
---
Good to remember: Make sure you have a detailed inventory of any unsalvageable items before you throw them away.
---
When possible, damaged items are restored on-site. When that's not an option (if a piece has sustained severe damage or the home is not structurally sound enough for the restoration crew to work there), the items that need to be moved away are carefully inventoried, packed out, and transported to a secure facility for cleaning, restoration, and storage.
If you have high-value items that require restoration by a specialist, the restoration company you're working with will consult with your insurance company and take the items to a qualified restorer.
Depending on the nature and extent of the fire, it may be best to remove all belongings to an off-site facility to make room for reconstruction and repairs.
Your belongings will be kept in a secure storage facility until the restoration process is complete and you can take them back home. You'll have access to everything that is taken out from your house but an advance notice may be needed to schedule your visit to the storage facility – and a nominal service charge may apply, as well.
How Long Will the Restoration Process Take?
The length of time for complete restoration varies depending on the size and type of the fire, the structure of the home, the amount of debris, the type of affected materials, the extent of the fire and smoke damage, and the sustained water damage. If there are any special restoration requirements (such as when a house has to comply with historical neighborhood codes, for example), the process will take longer.
Timelines can take from a few days for minor fire and smoke damage to a few months for extensive structural damage. If the fire was contained to a single room, it will take less time to restore than an entire floor, of course.
Keep in mind though that the restoration works cannot begin right away – fire scenes are usually locked down by local authorities until all investigations are completed. Your insurance company will also require some time to inspect the damage and review your policy to determine coverage.
---
Good to know: You need to have all the necessary building permits and plans before the restoration company can start the cleanup and restoration process (the pros can usually help you obtain all the needed permits and licenses for your project).
---
In the end, the restoration company's initial plans and estimates need to be reviewed and approved by your insurance company. Then, work can finally begin.
Do I Need to Move out During the Restoration Process?
If your home has sustained only minor damage and the utilities are working fine, your family can stay in the house during the restoration process.
In most cases, however, it will be impossible (or at least, unadvisable) to stay in the fire-damaged home – breathing in smoke residue poses a big health hazard, there will be a lot of noise from equipment and a lot of hassle, the house and everything in it (including your clothes) will smell of smoke, etc.
If you do decide to relocate until the fire damage repairs are completed, you'll need to make some arrangements: forward your mail to your temporary residence, stop subscription services and deliveries (cable TV, newspaper, etc.), notify your utility providers, etc. Make sure you take your essentials and valuables with you – personal documents, financial records, cash, credit cards, and checkbooks, medications, jewelry, family heirlooms, and other items of high sentimental or financial value, as well as all your everyday essentials (clothes, shoes, bedding, toiletries, personal care items, basic cooking and eating utensils, entertainment items, etc.)
Talk with your insurance agent to find out if off-site housing is covered by your policy.
How Much Does Fire Damage Restoration Cost?
Last but not least, you'll want to know the cost of the restoration process and who will be responsible for paying for the service.
The price of cleaning up fire and smoke damage can range from $1,000 to $50,000. Homeowners typically pay between $3,500 and $27,500, with a national average of $6,280-$12,730. The exact fire damage restoration cost depends on a number of factors, such as the size and scope of the loss, the extent of the damage, the type of the affected building materials and household items, and the cost of the water cleanup.
Most homeowner's insurance policies cover fire and smoke damage, so your insurance company will likely pay for the restoration. Your policy may even cover personal items lost in the fire, as well as the cost of temporary housing while your home is being repaired.
Keep in mind though that limits on coverage and deductibles vary widely, so you need to carefully review your policy and discuss your options with your insurance provider.
Fire Damage – What Is The Financial Threat – Video
At ServiceMaster DRR, we'll work in close cooperation with your insurance company to make sure you get the best service and coverage possible. We'll push to get the initial steps approved ASAP, so that we can begin work without delay to prevent the spread of the damage and minimize your loss. We offer comprehensive cleanup services, including water extraction and mold remediation, and efficient fire and smoke damage repair. Our highly trained and experienced technicians have the advanced equipment and professional know-how to mitigate the loss and bring your home back to its pre-fire condition in a quick and efficient manner. Your property will be fully restored and you'll be able to get your life back on track as soon as possible. Just make sure you call us at (800) 439-8833 immediately after the incident.