A fire leaves a gigantic mess behind that must be cleaned up in order to rebuild and move on from the disaster. Smoke and soot not only serve as reminders of the event until they're removed, but they continue to damage structural elements and everything inside until the items are ruined beyond repair. You may be tempted to try to clean the aftermath yourself, but there's more to smoke and soot removal than going in with rags and a bucket and mop.
Common household materials react differently to extreme heat, flames, and smoke: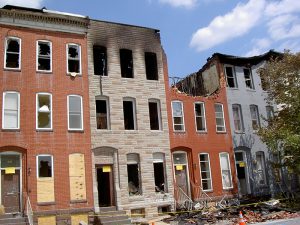 Plastic and fiberglass turn yellow due to a chemical reaction from being too close to the fire. This isn't something that can be wiped off, even with the strongest commercial cleansers.
Walls must be cleaned promptly to avoid permanent staining, but if they're cleaned the wrong way, it can compact the residue and make things worse.
Metal fixtures, appliances, and other pieces become tarnished after a fire. Unless they're promptly cleaned the right way, the corrosion and etching will ruin them permanently.
Carpets often melt in extreme heat, due to synthetic fibers. If they don't melt, they'll hold that smoky stench for a very long time, and even liberal use of commercial carpet cleaners won't remove the smell. The fibers may be discolored from the fire.
Glass can look etched in the aftermath of a fire. Heat, ash, and smoke combine to destroy the chemical composition of glass. Nothing commercially available can clean that.
Wood surfaces, especially exposed ones, will have to be sanded and refinished to remove soot particles and smoke. Most people don't own heavy-duty sanders that can handle this type of restoration project.
It's important to remove all traces of soot and smoke damage to make the area habitable again. A room that looks fine but still retains that unmistakable odor of smoke will be a constant reminder of the fire and anything else that may have occurred. There's more to the smoke removal process than opening windows or applying carpet sprays. The smell can't be covered up with candles or air fresheners because it's deep in the fibers of textiles, carpeting, and household surfaces and can't be cleaned with commercially available cleaning products. Toxins from the fire will continue to damage surfaces until they're cleaned and restored, and the average person usually doesn't realize this until it's too late to salvage the items. Restoration professionals know how to clean and restore items before the damage is permanent, and they have the training and heavy-duty equipment to save items that others might discard as being too damaged.
Fire and Smoke Damage Restoration
ServiceMaster DRR helps homeowners and business owners in the San Francisco, CA area recover from fires of all sizes. Our highly trained professionals can remove toxins and the overwhelming smell of smoke from your property and restore damaged items before they're permanently ruined. We arrive quickly after your call to assess the situation and begin the remediation process to bring you some welcome peace of mind during a difficult time. We make sure to communicate with you every step of the way during the restoration process, so you know what's happening at all times with your property.
Fire damage restoration cost vary, depending on the extent of the damage and the amount of restoration needed.