"March winds and April showers bring forth…" flash floods in many cases, especially for people who live in low lying areas or near large bodies of water after heavy rains. A flash flood is more than a quick nuisance; it can be a powerful wall of water that can damage bridges, sweep away cars, rip out trees, and cause widespread damage. That's why it's important to prepare for a flash flood before it happens and know what to do when it does.
Preparing for a flash flood.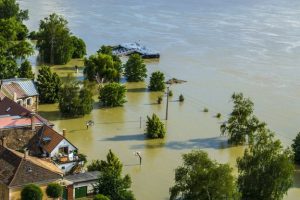 Find out your home's risk of flooding by visiting the Flood Insurance Rate Map (FIRM), which is administered by the National Flood Insurance Program. Develop a flood evacuation plan with your family if your risk is high enough and learn your area's flood evacuation route. Knowing in advance that you will stay with a certain relative relieves one source of stress during a disaster. Be sure that every member of your family knows that relative's contact information and have them check in with that person if you're separated in the disaster.
Assemble a flood emergency kit that has anything your family would need in case you need to move quickly. A waterproof tote with a handle is easy to grab in a hurry. Include things like a first aid kit, emergency radio, medications, bottled water, nonperishable food, small toolkit, flashlight and batteries, phone chargers, and important papers. Be sure your phone contacts list includes your insurance agent, relatives, and anyone you might need to contact after a disaster, such as your employer if you have to miss work for a few days. Include your policy number in the notes area under your insurance agent's number in your phone; it will help you file a claim faster if your files were lost in the flood.
Before a flash flood.
When the sky looks threatening, be sure to check the weather for flash flood watches or warnings. A watch means that conditions are favorable for a flash flood, but no flooding is occurring at the present time. A warning means that flooding is imminent or occurring in the affected area and action must be taken immediately. There are several apps available for smartphones that will send alerts when storm watches and warnings are issued. If there is a flash flood warning or evacuation issued for your area, there are several things you should do immediately to mitigate the damage. Unplug electrical appliances to prevent fires, move important items from lower levels to avoid damage, and store or secure outdoor furniture so it doesn't float away. Do not turn off the electricity or gas to the home unless the authorities advise doing so.
During a flash flood.
Shelter in place until the warning has expired; six inches of water can knock a person off their feet and two feet of water can sweep cars away. Stay out of lower levels and move to higher floors to keep away from flood water. Be sure to avoid walking through flood water; it can carry contaminants as well as debris of all sizes that can cause injuries. Wait until the warning has expired and authorities have given the "all clear" before you leave your home to inspect the damage. Flash floods may reoccur, especially in areas near bodies of water that experience heavy rains repeatedly. Be sure to call your insurance agent promptly; if it was a major disaster, you want to make sure your claim gets in and processed as soon as possible.
If your home or business in San Francisco, CA or the surrounding Bay area needs flood damage restoration, or any kind of water damage restoration, there's only one name you need to remember – ServiceMaster DDR. We have 35 years of experience restoring all kinds of water damage from every source imaginable. Our skilled technicians use only state-of-the-art technology to remove all traces of water and excess moisture from your property and make sure the affected areas are cleaned and restored. We're available 24 hours a day, 7 days a week, 365 days a year, because disasters don't keep business hours.
The costs to remove standing water and repair water damage vary, depending on the amount of standing water in the building and the extent of the damage.
Flood Safety – When to Re-Enter Your Home After a Flood – ServiceMaster Restore Video