Flooding has always been a concern for property owners around the country, especially for those living in coastal areas and floodplains. While flood damage may occur anywhere (because of torrential rain, snowmelt, drainage problems, etc.), the risk of flooding in lowland areas adjacent to water is much higher than that in inland, high-altitude regions. For this reason, such high-risk areas have been identified as Special Flood Hazard Areas and the communities located there have been encouraged to participate in the National Flood Insurance Program (NFIP) that aims to reduce the socio-economic impact of flooding by providing affordable insurance options and promoting the adoption of effective floodplain management regulations.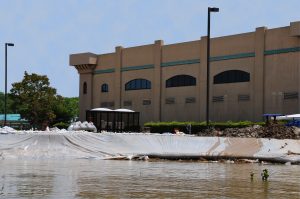 Knowing whether you're in a hazardous flood zone or not will help you determine how likely you are to experience flood damage to your home or business and what kind of flood insurance coverage you need. The more information you have, the better prepared you're going to be in the unfortunate event of a flood cleanup disaster.
What Is a Flood Zone?
The Federal Emergency Management Agency (FEMA) has assessed the flood risk for different areas of the country and put them in several categories – areas of high flood hazard, areas of moderate flood hazard, and areas of minimal flood hazard.
Flood Zone Definitions
Flood zones are geographic areas defined according to the level of flood risk and type of flooding that is most likely to happen in the region.
Special Flood Hazard Areas – Defined by FEMA as "areas that will be inundated by the flood event having a 1-percent chance of being equaled or exceeded in any given year", these are the areas with the highest risk of flooding in the country. They are designated as Zone V (The first row of beachfront properties that may experience strong coastal storms and suffer from big tidal waves. Flood insurance is mandatory in V zone areas.) and Zone A (Lowland areas adjacent to a lake, river, stream or other body of water that may flood during periods of high discharge. Flood insurance is mandatory in A zones.). The different designations of A zones and V zones (Zone A, Zone AE, Zone AH, Zone AO, Zone AR, Zone A99, Zones A1-A30, Zone V, Zone VE, Zones V1-V30, etc.) reflect the different ways in which they can be flooded;
Moderate flood hazard areas, such as base floodplains with little potential for flooding, are labeled Zone B;
Areas of minimal flood hazard are designated as Zone C or Zone X. Flood insurance is not mandatory in these regions;
D zones are areas where flooding is possible but the risk level has not been clearly determined yet.
Flood Zone Maps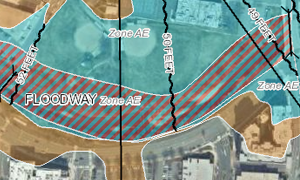 FEMA has conducted a comprehensive study of the flood risk in different areas around the country and compiled statistical data from "river flow, storm tides, hydrologic and hydraulic analyses, and rainfall and topographic surveys" in order to create detailed flood zone maps that show the flood hazard for communities throughout the United States.
Flood zone mapping is crucial for several important purposes:
The National Flood Insurance Program is based on flood zone mapping (flood maps are extensively used in the development of FEMA flood managements plans and regulations and setting of flood insurance requirements);
Flood zone mapping helps identify a community's flood risk which is very important when purchasing a new property, deciding on the most appropriate insurance plan for a property, making disaster preparedness plans, etc.
The FEMA Flood Map Service Center (MSC) is the official public source for flood hazard information you can use to find a flood map of your area and other relevant flood-related data.
Is My House in a Flood Zone?
Checking flood zones by address is quite easy. To find the answers to worrisome questions, such as "Do I live in a flood zone?" and "What flood zone am I in?", you can:
Visit the FEMA Map Service Center website to see your official flood map. When you enter an address, location, or set of coordinates, the map shown on the main search page will zoom in and display the boundaries of the flood zone your chosen area belongs to. You will be able to view, download, and print the selected map or open the interactive flood map for further exploration – review historic flood insurance study reports, access a wide variety of flood hazard products, use different tools for better understanding the risk of flooding, etc.;
Call (800) 358-9616 to get some useful information about FEMA flood zones and ask about the flood risk in your particular area;
Go to your town hall (or city hall) and request information about the flood zone you are in (the people responsible for issuing building permits in your area have access to flood zone maps and extensive knowledge about the flood hazards in the region).
Flood Damage
When you find out what flood zone you're in, you'll know what to expect and will be able to determine how much flood insurance you need. Make sure you understand the risk well and estimate your premium correctly as proper insurance is what will help you the most in the unfortunate event of flooding – it will pay for professional flood damage restoration services so that you get your property back in excellent condition as soon after the disaster as possible and recover from the flood in a quick and efficient manner.
If your home or business in the San Francisco, CA area is affected by flood damage, contact ServiceMaster DRR immediately at (800) 439-8833 for flood damage cleanup.