All homeowners are advised to create and practice fire escape plans with their family so that everyone knows where they can evacuate safely if a fire does occur.  While homes generally offer many potential escape routes in an emergency, apartments generally do not.  What are people who live in apartments supposed to do if a fire breaks out in their building?  Apartment fires can be dangerous because a fire started in one apartment can affect several others, yet apartment buildings are often constructed in a way to protect the tenants from fires.  Many apartment buildings also contain a fire alarm system that warns residents whenever it detects smoke or fire.  If you live in an apartment building, make sure you review these fire safety tips so you know how to react if there is a fire.
Fire alarm systems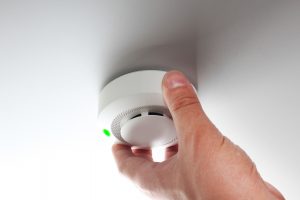 The thought of an apartment fire may be terrifying to the residents, especially those who live in upper floor apartments.  Fortunately, the fire alarm system can warn residents of any danger so that they know to evacuate.  The following are important things to remember about the fire alarm system of an apartment building:
Fire alarm systems consist of smoke detectors, fire alarms, and manual fire alarm boxes. The smoke detectors set off the fire alarms if they detect any smoke and the manual alarm boxes allow residents to activate the alarm if there is imminent danger.
Know where the manual fire alarm boxes are in your building so you can find them quickly in an emergency. They are usually located near the exits.
If you are evacuating the building because of a fire and the alarm hasn't sounded, activate the manual fire alarm box as you exit.
The fire alarm has a loud tone to warn residents of a fire.
If you hear the alarm, evacuate the building immediately. Do not reenter the building until you are given permission by the fire department or landlord.
Do not ignore the fire alarm, treat it as an emergency every time.
Do not activate the fire alarm at the manual alarm box unless you see smoke or fire. False alarms may cause the residents to begin ignoring the fire alarm and they force the fire department to treat them as an emergency.
Fire evacuation plan
Evacuating an apartment building during a fire is a little trickier than evacuating a home.  These tips can help you form a fire evacuation plan from your apartment:
Be aware of where the stairs are to leave your floor. You may have to get to another staircase if the one closest to you is blocked.
Before opening your apartment door, feel it with the back of your hand to check if the hallway is safe. If the door feels hot, use another exit.
Remember to take the key to your apartment with you in case you can't safely evacuate the building and close all doors on your way out.
If you cannot exit the building safely, go back to your apartment and shut the door. Seal off the apartment to keep out smoke by putting towels or tape in the spaces around the door.  Call 911 to tell the fire department that you are trapped in your apartment and get their attention by waving a flashlight or towel out your window.
If you live in an apartment building, the thought of a fire may be unsettling but knowing that your building is protected with a fire alarm system should bring you some piece of mind.  It is important to review these evacuation tips so you can create a fire escape plan from your apartment in case of an emergency.
Fire Restoration
Despite your best efforts at fire prevention, there is still a chance you could experience a fire in your apartment that causes damage.  If your apartment in the San Francisco, CA area is affected by fire or smoke, contact ServiceMaster Disaster Restoration and Recovery for fire damage restoration services.  Our technicians can reverse the effects of smoke or soot and repair the damage caused by the fire.