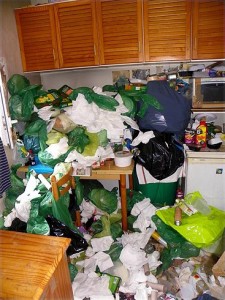 Dealing with hoarding disorder is difficult on so many levels. Managing the individual can be emotionally draining, especially if they don't agree that there's a problem. Knowing where to start cleaning in a home that's packed with clutter is overwhelming. These steps will help you take control of the situation, sort through items in a hoarder's home, and clean and sanitize it so it's safe to live in again.
1. Evaluate the area and create a decluttering/cleaning strategy.
People in hoarding situations lack the ability to distinguish items that are valuable from worthless items, so they tend to accumulate lots of them, afraid of losing one item that might be useful someday. These items quickly pile up and block access to areas of the home. The piles harbor dust, mold, insects, and vermin, making living conditions unhealthy and increasing the risks of fires. It's important to approach the hoarder and work with them on the situation. Doing a major cleanup without them present won't address the underlying reasons why they collect in the first place and will create a sense of resentment. Don't try to do it all on your own; get help from others or hire a professional cleaning company. Doing heavy lifting on your own can be dangerous, and having help makes the job go faster. Develop a cleaning plan to address what kind of supplies and equipment will be needed, along with an idea of how much time this project might take.
2. Be sure to protect yourself.
It's impossible to know what's in those piles inside the home, so be ready for almost anything with protective gear and equipment. Wear disposable gloves, eye protection, and a dust mask to avoid contact with allergens, as well as sturdy shoes or boots and a hard hat. Have a fire extinguisher, bug spray, a flashlight, and first aid kit available to cope with anything you may encounter. You may run across broken glass, flammable materials, or insects that start biting when disturbed. If you encounter biohazardous materials, call a professional restoration company immediately. These materials can't be legally discarded in household trash.

3. Collect plenty of cleaning supplies.
A project of this size will require a great deal of cleaning supplies because you don't want to have to stop and make a supply run in the middle of the job. These items are necessary when cleaning a hoarding situation:
Heavy duty trash bags;
Empty boxes;
Buckets and mops;
All-purpose cleansers/disinfectants;
Sponges/wipes/cleaning cloths;
Broom/dust pan;
Vacuum cleaner and extra bags if necessary;
Step ladder;
Shovel;
A set of hand tools.
A dumpster is necessary to hold all the discarded items that would overwhelm trash cans. Contact the city's sanitation department for information on rates, as well as pickup and delivery information. Set up a staging area outside to sort through items; a covered area may be necessary if the job can't be completed in a day.
4. Start with a Small Room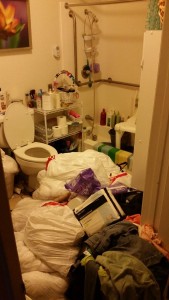 It's difficult to know where to begin, so start with a small room so you feel a sense of progress. A bathroom is a good place to start because it's not a large room and having a clean, sanitary bathroom is important to maintaining a home's health. Bathrooms usually don't have many valuables or sentimental items, so there isn't much discussion about discarding them. Once a room has been cleaned and sanitized, there's a sense of accomplishment and motivation to do more.
5. Classify the group of things that needs to be cleaned
To make cleaning easy and quick, the first thing you need to do is to classify the groups of things that need to be cleaned such as: clothes, kitchen utensils, books, toys. This is extremely necessary, especially for families with many members. Clearing all the clothes in the rooms and then clearing the other groups helps you get the job done faster. After cleaning, arrange them into neat boxes or cartons. The next thing you just need to store them neatly is done.
6. Prioritize cleaning order from the beginning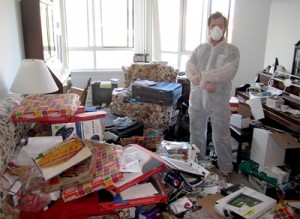 The order of cleaning is one of the tips that the Japanese often mention. The arrangement of the cleaning order not only makes the cleaning more logical but also helps you not to be confused about a pile of work in advance. Above all, prioritizing also helps you complete the best tasks without missing anything.
The order of cleaning priority according to the Japanese is starting from the clothes (clothes, bags, shoes, hats); followed by bookshelves and papers; then there are other small things according to each person's choice and finally the arrangement of souvenirs.
7. Empty Rooms, Top to Bottom
It's best to take a methodical approach to clean in situations like this. Remove everything from rooms, top to bottom, including furniture if possible. It's easier to thoroughly clean when there are fewer items in a room. Go through drawers, closets, purses, and clothing pockets to ensure that no valuables have been left behind. Check local ordinances on disposing items like paint, medications, and other items that can't be discarded in household trash.
8. Set Aside Salvageable Items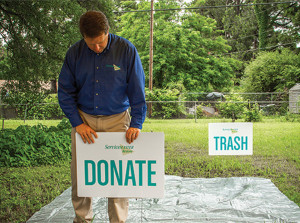 Sort through items after they've been removed from a room to determine if they should be discarded, kept, donated, or recycled. Some charities can pick up donations if you make arrangements in advance. Items that are being kept need to be cleaned and checked for damage. Items that are being removed from the home must be removed promptly before the individual can have a change of heart.
9. Deep Clean and Repair the Home
Once the home is free of clutter, it can be thoroughly cleaned and sanitized. Depending on the extent of the hoarding, this may take some time, but the end result will be worth it. This is also the time to examine the building for any necessary repairs, such as cracked drywall or warped floors. These repairs should be made before furniture and other items are returned.
10. Create an exciting atmosphere when cleaning the house
Turn house cleaning work into leisure time, so you won't feel tired and bored. Turning on music, listening to your favorite songs is one of the ways to help you feel happier and more excited when cleaning.
Music always has a magical effect, bringing positive energy to us. You can turn up the volume of the music so that you can listen to it anywhere in the house and enjoy cleaning the house.
Professional Hoarding Cleanup Services
If you need hoarding clean up services in the San Francisco, CA area, or anywhere in northern California, call the caring professionals at ServiceMaster DRR. Our technicians have the training and experience to manage hoarding situations of any size. We work with clients to develop comprehensive cleaning plans that help people deal with this complex anxiety disorder. The cost to clean a hoarder's home varies, depending on the extent of the clutter.
ServiceMaster Hoarding Video