Hoarding
Hoarding has become a topic of interest in the last decade, partially because of the popularity of TV shows that shed light on the difficulties of hoarding and the cleaning process.  Because of this focus, we now have a better understanding of hoarding and the best ways to help those who are affected.  Hoarding is a mental disorder that is rooted in anxiety, and this anxiety is what causes those affected to engage in common hoarding behaviors that lead to clutter in the home.  Those who struggle with this type of anxiety feel as if they have little control over their lives, and hoarding is one way for those affected to try and maintain some control.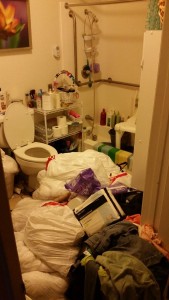 The major problem with hoarding, however, is that it can lead to very dangerous and unsanitary living conditions that can threaten the health and well-being of the hoarder and their families.  Extreme clutter from hoarding increases the risk of injuries in the home, restricts access through the home which is dangerous in emergencies, and allows for the growth of mold, bacteria, and other harmful substances that can affect health.  It is natural to want to help a hoarder clean out their home, but it is not that simple.  Those who struggle with hoarding will feel like they are losing control if other people are removing items from the home.  It is extremely important to approach hoarders with a sense of compassion and respect, and ensure that they have control over the cleaning process.
The following tips will help you effectively confront a hoarder and help them clean their home to restore safe and sanitary living conditions.
Assessing the Monetary Value
Individuals who hoard typically believe that the objects they hang on to have monetary value.  In most cases, this is simply not true.  It can be very difficult to help a hoarder understand the real monetary value of their items, especially if these items have sentimental value for the individual.  You must be polite when explaining to the individual that many of the items in their home do not have any real value.  Ask the individual if they would consider donating some of their items which will make the decision theirs and give them control over what happens with their possessions.
Hoarding Therapy
It is important to remember that hoarding behaviors are a manifestation of deep anxiety issues and there is usually some sort of traumatic life event that triggers these issues.  Hoarding experts recommend involving hoarding therapy in the cleanup process to help the individual come to terms with their disorder and deal with the anxiety that leads to hoarding behaviors.  Simply cleaning out a hoarder's home without involving therapy is similar to taking drugs away from a drug addict but providing no additional treatment.  If the affected individual can come to terms with the root of the hoarding issue, they have a much better chance of getting over their hoarding behaviors.
How to Confront a Hoarder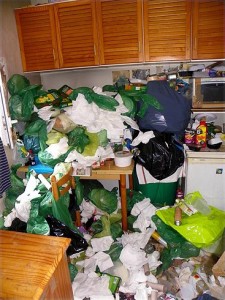 Many people that struggle with hoarding issues do not reach out for help on their own accord for a couple of different reasons.  Some hoarders don't think that there is a problem and some are simply too embarrassed by their situation to ask for help from others.  In either case, you must approach with care and compassion and allow the affected individual to decide for themselves what to do.  The following tips will help you approach a hoarder with sensitivity and earn their trust and respect:
What to Avoid
Don't ever take it upon yourself to clean out the home of a hoarder. Not only must the hoarder be involved with the cleaning process, but they must also make the final decisions.  Cleaning the home yourself robs them of any control over their own home and belongings, and makes it much more difficult for them to trust you.
Do not threaten or coerce the affected individual into cleaning out their home. You should only begin the cleaning process if the individual gives their permission.  It is very important to take a positive and encouraging approach given the sensitivity of the issue.
Do not say anything negative either about the condition of the home, or the individual struggling with hoarding issues. The individual must be treated with compassion so that they know they are valued and respected.
What to Do
Start the conversation about the issue with the individual over lunch so that there is no pressure.
Make sure the individual understands that you are concerned for their health and well-being and that cleaning out the home can make their living conditions safer.
Talk to the individual about therapy before beginning any cleaning and help them find a professional who can help.
Once the individual agrees to clean out their home, call our professionals at ServiceMaster DRR for hoarding and estate cleaning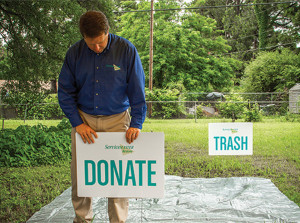 Hoarding is a complex situation and it is very important to take the right approach to help a hoarder agree to clean up their home before their living conditions become dangerous.  Remember that those who struggle with hoarding suffer from anxiety which is why you need to earn their trust and ensure that they are in control of the cleanup effort.  If you have a friend or family member in the San Francisco, CA area that has agreed to clean and restore their home, our professionals at ServiceMaster DRR are ready to help with our hoarding cleaning services.
Hoarding estimates – Get a Quote Online
---