Water damage can be incredibly destructive to any building material used in the San Mateo, CA and San Francisco, CA areas; however, some materials will fare better against excess moisture than others. One of them includes laminate flooring; if you simply wipe up a spill as soon as it occurs, there shouldn't be a problem.
But in the cases of flooding or significant amounts of water, affected materials will need some professional services. Over a long period of time, water-damaged laminate flooring will become buckled and worn down as the water soaks through it to the subfloor below.
But if you react quickly, you can save the laminate floor with professional water damage restoration techniques, allowing you to save money during the process as well as prevent the risk of mold growth.
Despite the trend of vinyl and wood flooring, laminate floors are still popular due to their clean look and affordability. They're also a lot easier to maintain compared to carpet and hardwood floors. With the right care, laminate floors will last about 15 – 25 years, according to National Floors Direct.
But if you suspect your laminate floors have water damage, here are some signs to look for as well as prevention tips to keep water and mold from destroying it.
Signs of Water Damage on Laminate Floors
It shouldn't be too hard to spot water damage on your laminate flooring when looking for the following:
Discoloration
Visible mold
Splitting
Buckling
Cracking
Musty odors
Repairing Water Damaged Laminate Floors
Before getting into the details of repairing water-damaged laminate flooring, you should know that it's always best to work with a water damage restoration professional as they will know exactly what to do in these situations. Everything from drying out the material to cleaning the material to preventing mold growth can be done effectively by a professional.
But if you feel confident to take on this hefty task yourself, you'll want to follow these steps carefully. You should first know that it's difficult to find new laminate flooring that perfectly matches the existing flooring. So many homeowners opt for replacing the entire floor instead of just the damaged section. But before making your decision, factor in the cost of replacing the entire floor compared to spending time to hunt down a matching material. It'll be easy to tell when the new floor doesn't match the old.
1. Remove the damaged material
When repairing the flooring, you'll need a crowbar or other tool to pull up the damaged planks one at a time. But keep in mind that the full plank must be removed if just a portion of it was damaged.
2. Inspect the floorboards below
This is a critical step before laying down new floorboards as any wet subflooring or mold will only damage the new planks you put down on top. If you find any signs of damage, sections of the subflooring will need to be replaced as well.
If you're not sure whether or not the subfloor will need to be replaced, it's best to consult with a water restoration professional or just replace it.
3. Drying out the floorboards
It may take a few days for the floorboards to dry if considerable damage was made to the building materials. But patience is crucial as dry floorboards will eliminate the risk of mold growth below your floors.
If there are any other signs of water damage elsewhere in your home, a professional water damage restoration contractor can provide much relief when addressing these issues. Again, they have all the products and equipment needed to restore the building material to a clean, dry condition.
Preventing Water Damage to Your Flooring
If you followed the steps above, you'll know that repairing laminate flooring is no easy task. But thankfully, there are ways in which you can prevent water damage to not just your laminate flooring, but to other floorings throughout your home or building as well.
Here are some of the best water damage prevention tips for both the interior and exterior of your home:
Interior
Routinely inspect your plumbing and appliances for leaks, including under sinks, behind toilets and around water heaters and dishwashers. Have them repaired right away.
Wipe up any spills immediately
Keep moisture levels between 30 – 50% to prevent condensation and mold growth
Check your water pressure
Install water detection devices
Know where to find your water main line
In the wintertime, keep your home at 55 degrees or warmer to prevent frozen pipes
Exterior
Maintain your trees and vegetation
Clean gutters and downspouts
Disconnect your hoses in the fall
Professional Water Damage Restoration
Again, choosing an experienced, licensed, and insured water damage restoration contractor is the best way to go when repairing not only your water damaged laminate flooring, but anything in your home. Our professionals can repair everything from ceiling tile to drywall to concrete floors. We are available 24/7 and will respond right away in the event of an emergency to prevent the damage from spreading as well as mold growth.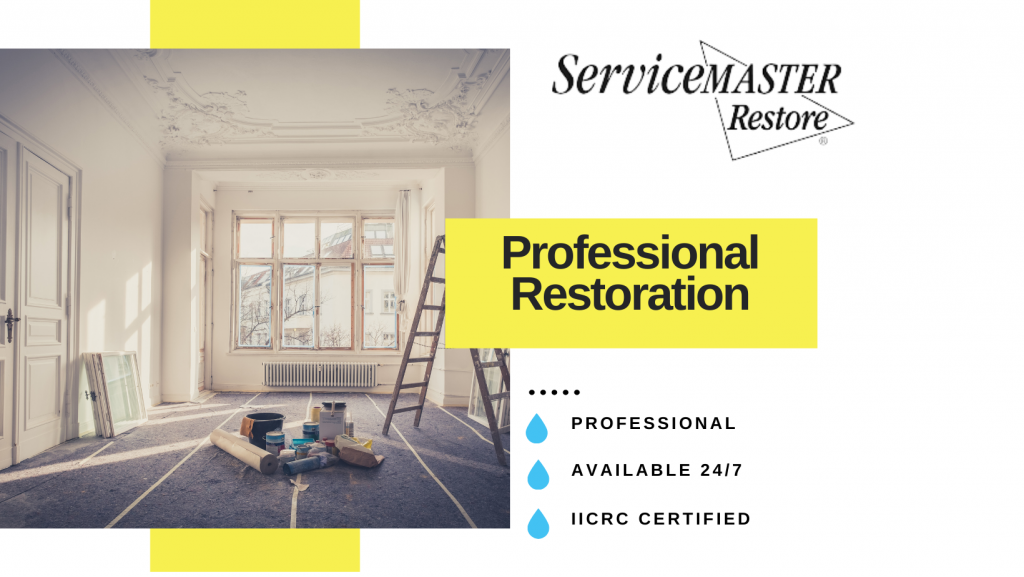 For those living in Cupertino, CA or San Mateo, CA, san Francisco, CA and the surrounding areas of the Bay Area, ServiceMaster of San Francisco/San Mateo  is available 24/7  at (800) 439-8833 to help all home and business owners with water damage restoration.
Our IICRC certified professionals will remove all excess moisture, flood water, and sewage water using a number of restoration techniques and drying equipment. We will also restore and clean the damaged areas to prevent the risk of mold growth.
In the event that we do find mold already growing on your flooring, drywall or any other areas of your home or business, we can fully remove it using advanced products and techniques within our mold remediation services.