ServiceMaster DRR
Serving San Carlos area 24/7/365
Call: (415) 584-6100
Water damage is a problem that homeowners in San Carlos, CA should always be aware of because it can happen as a result of rain, flooding, or humid conditions as well as internal issues including leaks from pipes and fixtures or sewage backups.  The tricky part about water damage is that it can spread rather quickly because the building materials in homes and buildings are absorbent and the amount of damage it causes can be deceiving because of this.  It is best to have a professional deal with water damage to limit its effect and ServiceMaster Disaster Restoration and Recovery provides water damage cleanup services in San Carlos, CA to remove excess water and restore the resulting damage.
Water Damage Restoration
With over 35 years of combined experience and the proper training, our technicians at ServiceMaster DRR can provide water damage restoration for large and small losses in commercial and residential settings.  We use dehumidifiers, floor mat systems, air movers, hydroxyl technologies, and other state-of-the-art drying equipment to completely remove water from structural elements and furnishings that have been affected as well as air spaces to prevent mold and mildew growth.  In addition to our regular water damage restoration services, we are also prepared to provide carpet cleaning, upholstery cleaning, and content cleaning and pack-outs if necessary.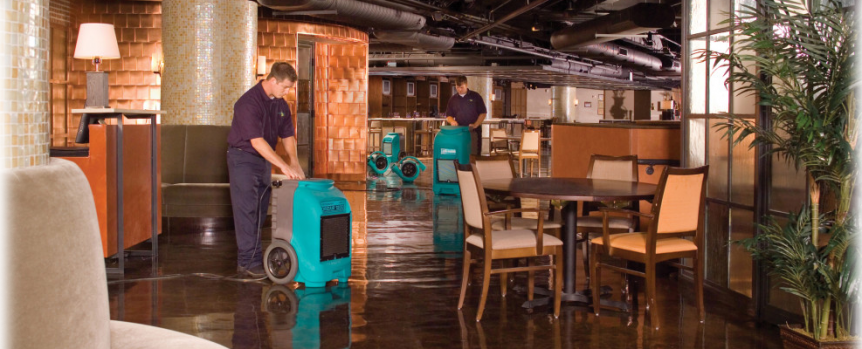 Do not use a regular vacuum cleaner for water removal.
Make sure you are standing on a dry floor when using electrical appliances.
Shut off the power before walking into a room with standing water.
Leave the removal of permanent carpeting to the professionals because doing it yourself could cause additional damage.
Call ServiceMaster DRR for water damage restoration once you discover water damage because ignoring it will allow it to spread and result in more serious damage or mold.
Sewage Backup Cleanup
Sewage backups are one possible source of water damage and if your home or building experiences a sewage backup, it must be cleaned up differently than typical water damage.  Sewage backup often contains hazardous substances including bacteria, viruses, hepatitis, and E. Coli that can spread infection and disease in addition to causing water damage.  Our technicians are licensed, trained, and equipped to safely remove sewage backup as well as restore and sanitize the area to help prevent health problems related to these materials.
If you discover water damage in your home or office in San Carlos, CA, do not hesitate to call ServiceMaster Disaster Restoration and Recovery for water damage restoration services.  Our technicians are highly trained to provide effective water damage restoration in any setting and we respond quickly to your call to help prevent the damage from spreading.  Our phone lines are open 24 hours a day at (800) 439-8833 to respond to water damage emergencies in San Carlos, CA area.
---
ServiceMaster Restore Flood Cleanup Services – Watch the Video
---
Related services:
Water Damage Restoration Services – San Francisco, CA
Water Damage Restoration – Santa Clara, CA
Flood Cleanup Services – San Mateo, CA
Water Damage Restoration Services – Sunnyvale, CA
Water Damage Restoration – Foster City, CA
Sewage Backup and Flood Cleanup – Cupertino, CA
Flood Damage Restoration – Palo Alto, CA
---
Reviews:
Review by Lawrence A.
Water Damage Restoration
Rating

"We had a major damage when the water pipe from the ceiling burst (see attached pictures 1 to 3 before restoration). Our insurance company (All State) referred us to Service Master. We were so happy about the subsequent clean up, remediation and restoration performed by Service Master. Raja Devini and his crew were outstanding! We highly recommend Service Master!!!"
---
Review by Brian S.
Water Damage Restoration
Rating

"We had these guys out to take care of our moisture remediation after our upstairs neighbor's washer hoses broke, sending water all over a portion of her unit and then leaking through our bathroom ceiling. The two techs who initially came were very professional, knowledgeable, kind, and thorough, leaving nothing to chance. They checked everywhere with their moisture detectors in and around the bathroom. Once the insurance work was squared away, they returned along with a very nice technician, Lennard who is just the same as they are. After their humidifier, and other heat apparatuses were installed, another technician, Julio returned a couple times to check on the abatement and today to take everything out; he too is very thorough, knowledgeable, kind, and knows his stuff. As another Yelper said, they only do clean up and abatement, not repairs and painting. If you are ever in a situation like this, call these guys. You will be glad you did. Keep up the good work guys."