Technology has allowed us to put so much into the phones we carry with us everywhere, from books to cameras to enough productivity apps that some of us can take the office with us anywhere (which isn't always a good thing). Now you can use that same technology to monitor your home when you're at work or on vacation! You can even check in at a rental property from halfway across the country, all without spending a fortune on equipment or monthly fees.
Security Cameras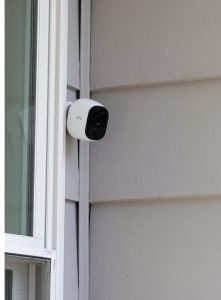 Security cameras used to be something that only businesses or wealthy people had to monitor their property. Home security companies came along, but they require monthly monitoring fees. Now it's possible to buy monitoring equipment outright for a few hundred dollars that installs easily inside or out. The cameras can be mounted in basements, on garages, or anywhere that needs to be monitored. Smartphone apps allow access to the cameras from anywhere there's wifi access. These cameras won't notify the authorities in case of trouble, but they will allow you to remotely check in at a vacation home during a storm, or monitor the sump pump's progress in your basement while you're at work. These systems are available online or at electronics stores. You can customize these systems by placing cameras in the basement, near the fireplace, or close to any potential trouble spots. The app sends an alert to your phone when the camera is activated so you can pull up good quality video, see exactly what's happening, and take action immediately.
Water Leak Detectors
The detectors in your home have gone high tech too. Water leak detectors are small, battery operated devices typically used near toilets, water heaters, and other devices that can leak large amounts of water. If a water leak is detected, it sends an alert to your smartphone; depending on the model, it also sounds an alarm in the home. This is especially useful in vacation homes or for the basement of an older person's home who doesn't go down there often anymore. If your home is susceptible to flooding, consider investing in a flood monitoring system. Some have automatic shutoff valves and multiple detectors. They may be more expensive, but they're cheaper than replacing a house full of memories.
How To Check For Home Flooding – ServiceMaster Restore Video
Smart Smoke Detectors
Smoke prevention has moved into the 21st century, thanks to smart smoke detectors that notify your smartphone in case of smoke or fire at their location. Some of the more sophisticated models can minimize the extent of the damage by shutting down other devices in the home, such as the HVAC system. If replacing smoke detectors isn't feasible, or you live in a rental property, consider switching to smart batteries in the "old school" detectors. These batteries are the same size as traditional 9-volt batteries and install the same way, but give users the benefits of basic smart detectors at a fraction of the cost. Some detectors send an alert when there's a rapid rise in temperature in a room, while others message only when temperatures reach a predetermined level.
Smoke Detector Tips Video – ServiceMaster Restore
Smart Plugs
Anyone who worries about leaving the coffeemaker or iron on can breathe easier by using smart plugs. They come in a variety of prices and don't require complicated installation. The plugs go into the wall outlet, then the appliance plugs into the smart plug. A smartphone app allows you to turn the appliance on and off from anywhere there's a wifi connection, even if you're stuck in traffic and remember you left the iron on. These plugs are excellent substitutes for lights on timers. A criminal can easily learn your schedule when the lights automatically come on by themselves. These plugs make it easy to turn on a few when you're at the last stoplight before home. They also work with Amazon Alexa and Google Assistant voice activated devices, so users can have the fun of commanding their lights like Tony Stark bosses Jarvis around in the "Iron Man" movies.
These innovations can bring peace of mind to families who are dealing with members in the early stages of dementia, a disease that's on the rise as more members of the Baby Boomer generation age. They detect danger sooner and alert loved ones quickly, saving lives and allowing people to live on their own longer for a small investment. They're less invasive in day to day life than a live-in assistant, which may be more acceptable to the patient, and less expensive. There's no need to interview people or be concerned about a caretaker's behavior.
Damage Restoration
Even if you have all the bells and whistles, literally, sometimes you still get smoke damage or basement flooding. It's important to call for comprehensive restoration as soon as possible, before more damage can occur. If you need quality fire damage restoration or flood damage restoration in San Francisco, CA and the surrounding Bay area, call the experts at ServiceMaster DDR. We have over 35 years of experience dealing with a wide variety of disasters and their aftermath. We use only state-of-the-art techniques and equipment to deliver the best restoration services for our residential and commercial clients. We're available 24 hours a day, 7 days a week, whenever you need us.
Watch the ServiceMaster Damage Restoration Video
---
**Restoration costs vary, depending on the extent of the damage. The national average for fire damage restoration is $10,065. The national average for water damage restoration is $2,439.
**The costs for these devices vary, depending on the features. Smart plugs start at just over $10 for a basic unit to around $125 for a model safe for use on stoves on Amazon. Smart batteries start at $45 on Amazon. Camera system prices vary depending on the number of cameras, but are often around $200.