ServiceMaster DRR
Serving Sunnyvale area 24/7/365
Call: (415) 584-6100
When you experience a natural disaster, the damage can normally be handled with regular restoration services. But when the damage is too dangerous or intense, total reconstruction services are a must. At ServiceMaster Disaster Restoration and Recovery, we provide professional construction services for homes and businesses in Sunnyvale, CA. Our staff is trained and certified to provide complete construction repair as part of our disaster restoration services. We have the experience to handle any sized loss and level of destruction. Because communication is essential, we establish an open dialogue with you so you are always aware of the progress through every step.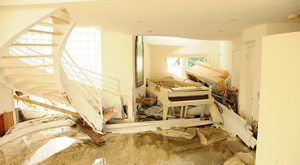 The stress of an unexpected disaster can have a large impact on your daily life. Construction can be a difficult and very stressful process. Your home or building is very important so you need a trustworthy and experienced company to rebuild it with complete reconstruction services. Give ServiceMaster DRR a call at any hour and our dispatch will have someone out and ready to secure your property. Our experts are prepared to handle the creation of a construction plan and will keep you informed on all decisions along the way. We assign a specialized project manager to head the construction project and make sure all aspects of the project are overseen with absolute professionalism. We also employ well-trained specialists, from carpenters to subcontractors, to ensure your home will be fully restored from top to bottom.
Our construction services cover all aspects of the project such as:
Permits and licenses
General contracting
Consultations and design
Complete remodeling
Custom woodwork, carpentry, and framing
Roofing repair and replacement
Architectural reports and blueprints
Plumbing and electrical
Staining and painting
Flooring and carpeting
Experiencing a disaster is devastating, and time is of the essence in preventing additional damage and repairs. Calling ServiceMaster DRR as soon as possible will give us the best chance at ensuring minimal destruction to your property. If a disaster occurs to your home or business in the Sunnyvale, CA area, call us at (800) 439-8833, 24 hours a day to respond with emergency stabilization services.
---
Frequently Asked Questions About Construction Services

Cleanup in construction involves several tasks, which may include:
Removing Debris
Dust and Dirt Removal
Waste Disposal
Sweeping and Vacuuming
Cleaning Fixtures
Final Touches
Safety Measures
Environmental Considerations
In the event of significant damage to your residence or structure, ensuring its stability and safety to avert additional harm or potential hazards becomes paramount. Our skilled experts at ServiceMaster are prepared to swiftly stabilize extensively impaired residences and business establishments within the San Francisco Bay Area. Moreover, we offer comprehensive construction services aimed at restoring these properties to their initial state.
Related services:
Construction Services – Santa Clara, CA
Construction Services – San Francisco, CA
Construction Services – San Carlos, CA
Construction Services – San Mateo, CA
Construction Services – Palo Alto, CA
---
Reviews:
Review by Jude S.
Disaster Restoration
Rating

"Floods and roof holes from broken tree limbs.. one call and they were here in one hour and 20 minutes and I'm in San Gregorio/ La Honda area
Kudos to a great team"
---
Review by Alanna Z.
Disaster Restoration
Rating

"Steve and his crew are committed to excellence and made every effort to make sure my estate condo extreme clean-up and recovery process was complete and to my satisfaction. They handled everything including an inventory and sale of items with respect, care and professional expertise and courtesy. They are a business you can trust and rely on. Simply the Best!"