While fires are common, prevention is the first step towards avoiding these dangerous disasters. There are many steps that can be taken in order to prevent severe damage as well as steps you must take when you encounter a fire in your home. Taking action in as little as 30 seconds can mean the difference between a small portion of the home burned by the flames and a life-threatening catastrophe.
Thousands of Americans die each year during fire disasters, the majority of them occurring during the holidays. In fact, the heat and smoke produced from the fire is responsible for more deaths than the flames.
To keep your family safe from this mess, here's exactly what you need to do during a fire on your property:
1. Use the Fire Extinguisher
Never ignore the sound of a fire alarm in your home. As soon as you hear it, immediately get your fire extinguisher as this can prevent it from spreading. If you're unable to put it out yourself, move everyone out of the home right away. Always be sure to keep a fire extinguisher in your home for safe use, in both residential and commercial properties.
2. Notify Everyone
Let everyone know right away that there is a fire in the house by screaming loudly; never rely on smoke detectors as they may not always work during a time of emergency because of dead batteries or dust on the alarm.
3. Call 911
Call the fire department immediately after evacuating. Never go back inside, especially to find your phone as you become trapped by the flames. Get out quickly and ask your neighbors or nearby walkers to call the fire department.
4. Leave High-Value Items Behind
In the presence of a fire, never hesitate to leave your items behind as doing so can be a lethal mistake. You can always notify the fire department after the flames are extinguished, describing their specific location in the home.
5. Stop, Drop, and Roll
Never run if your clothes catch on fire. Simply stop where you are, drop to the floor, and roll on your back to put out the flames. Stay on the floor and close to the ground, crawling towards the nearest exit as this space will keep you safest from hot temperatures and thick smoke.
6. Cover Your Nose
Use your shirt or other peace of cloth to cover your nose during a house fire to avoid breathing in smoke or soot. If possible, cover the faces of children and elderly, especially when escorting them to safety.
7. Close Doors
After crawling out of a room, immediately close the door behind you. Research has shown that this helps to prevent the flames from spreading, at least adding extra time to escape.
8. Stay Outside
After leaving your home or building, stay outside; never attempt to go back into rescue another person or pet. Let the fire department know immediately if anyone was left behind and describe the fastest way to reach them once inside.
9. Meet at the Safety Spot
Having a planned spot to meet during the event of a fire can let everyone know who is safe. This also prevents fire officers from searching for people who have already evacuated.
10. Start the Restoration Process
After everyone has evacuated and the fire is extinguished, don't hesitate to call your local fire damage restoration company. It's best to have their contact information already stored in your phone should an emergency occur as time is crucial during this phase.
Fire Damage Prevention
As prevention is key to avoiding a disaster, here are some fire safety tips on how to prevent house fires in the future: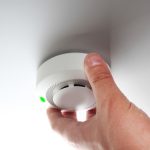 1. Install a fire alarm in each room and inspect it frequently
2. Teach your kids about fire alarms, what they do, and how important they are
3. Keep a fire extinguisher safely stored and accessible in your kitchen
4. Make sure everyone in the house knows which route to use to evacuate safely and a designated safe spot to meet
5. Practice fire drills in your home at least twice a year, pressing the fire test button or yelling "FIRE" to notify everyone to evacuate
6. Ensure that everyone knows how to dial 911
7. Teach everyone in the home how to stop, drop, and roll if their clothes catch fire
Emergency Fire Damage Restoration
After calling the restoration contractors, they will be on their way to address the damage. Until then, stay outside and ensure that everyone is safe. You should also call your insurance company to file the claim.
As soon as the technicians arrive, they will begin to assess the damage, informing you of all that will be involved in the recovery process. With your approval, they will begin working right away.
Work with an Emergency Restoration Contractor
When searching for a fire damage restoration contractor, it's important that they are a licensed, trained, and experienced company that has an established reputation in the community. ServiceMaster Disaster Restoration and Recovery has been a trusted provider of these services in the city of San Francisco and surrounding areas for many years.
Our technicians are not only licensed and trained but know exactly what to do when disasters occur. As soon as they arrive, they will assess the extent of the damage to the property through an initial inspection. Upon your approval, they will immediately begin boarding up all windows and holes, followed by tarping over the roof to prevent any additional damage.
ServiceMaster Disaster Restoration and Recovery will then begin cleaning all building materials and personal items to prevent any soot and smoke byproducts from causing etching and tarnishing. If the condition of your property is not suitable for the restoration of your belongings on-site, they will remain in our secure storage facility until the restoration process on your home is complete.
Following the restoration process, we will provide all needed repairs, including replacing building materials, eliminating any remaining odors, and finally working with your insurance company during the claims process. As we are dedicated to providing you with complete peace of mind, we ensure that you can rely on us during all phases of the restoration process.
Available 24/7
Call ServiceMaster Disaster Restoration and Recovery at (800) 439-8833 if your home or building in the San Francisco, CA area has experienced severe fire damage.