All homes experience some water damage from time to time because there are so many ways that excess water can enter your home.  Any amount of water can cause problems in a home but the damage is much worse if there is significant in-home flooding.  A flooded house can sustain plenty of damage as the water can weaken structural elements, warp woodwork, ruin flooring, and destroy your electronics and other personal possessions.  Flooding in your home also greatly increases the risk of developing mold growth.
Flood Safety – Laundry Inspection Tips – ServiceMaster Video
A quick laundry room inspection now could prevent costly water damage to your home in the future. Watch the video on how to prevent flooding in your laundry room.
Flood Cleanup Tips
In-home flooding is a very serious issue that requires immediate attention to help limit the damage and prevent mold growth.  If you are dealing with severe flooding in the San Francisco area, contact ServiceMaster Disaster Restoration and Recovery (DRR) for professional flood damage restoration.  After calling our professionals, you can get a head start on the flood cleanup with these tips.
Shut Off Power and Move Electronics
Water and electricity are a dangerous combination and there is a high risk for an electric shock in a flooded house with the power on.  You must turn off the power in the affected areas immediately after sustaining significant flooding for your safety.  You should also move your electronic items away from the flooding first because water can destroy electronics on contact.  Make sure you shut off the power before unplugging and moving electronics so you do not get electrocuted.
Remove the Flood Water
Once the power is off and your electronics are secured, you should focus on removing as much flood water as possible.  Removing standing water in a flooded basement is usually best left to flood cleanup professionals, but there are some things you can do to help remove some of the water.  If you have standing water, the best thing you can do is remove it with a shop vacuum.  Shop vacuums are specially designed to remove standing water and they are available for rent.  Do not ever try to remove standing water using a regular vacuum cleaner.  Make sure the shop vac is plugged in a safe distance from the flooding.  In areas that are wet but do not have standing water, you can remove some of the water with mops and towels.
Thoroughly Dry Flooded Area
After you have removed as much water as you can, you must dry the affected area to prevent structural damage and mold growth.  Creating air circulation by using fans, dehumidifiers, and opening windows is the most effective way to dry flood damaged areas in your home.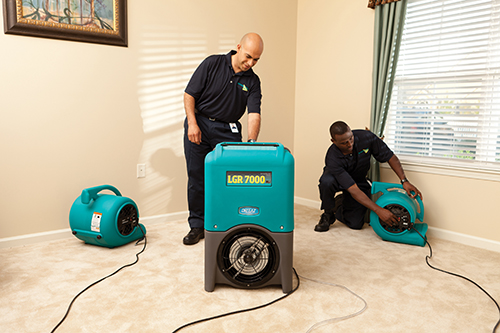 Flood Cleaning and Disinfecting
Flood water can possibly contain bacteria, sewage, microbes, and other materials that can be harmful to your health.  You must thoroughly clean and disinfect every surface and item that came into contact with the flood water to remove any contaminants and make the area safe.  Make sure you clean walls, flooring, woodwork, and furniture with a strong, non-toxic disinfectant.
Inspect your Damaged Items
Severe flooding in a home often has a devastating effect on the homeowner's personal belongings.  Gather up all of your flood damaged items and try to decide what can be saved and what should be thrown away.  If you are not sure, ask one of our technicians as we can clean and restore water damaged items as part of our flood damage cleanup services.
Flood water can quickly penetrate building materials and furnishings in your home so make sure you react immediately.  With these tips, you can help limit the flood damage in your home and remove some of the water as you await the arrival of our technicians.  We use advanced water extraction and dehumidification equipment to provide effective flood damage restoration for homes and businesses in the San Francisco Bay area.  You can contact us 24 hours a day at (415) 584-6100 to respond to flooding in San Francisco, CA and the surrounding areas.