Few things rattle a homeowner more than having a sewage backup. The smell is unmistakable and the thought of all that bacteria and other hazardous waste in your home is appalling.
As you reach out to water damage restoration professionals to perform sewage removal, here are some things to keep in mind.
Sewage backup do's and don'ts
Here are a few do's and don'ts for dealing with a sewer backup from the Department of Public Health.
Do keep children and pets away from the backup. This will keep them from coming in contact with raw sewage, which can make them very ill and can be spread by feet and paws.
Do call your insurance company to start a claim and find out what sewage cleanup costs are covered by your policy.
Do call the local sewer or public works department if you're on a municipal sewer system. If you use a septic system, call the public health department for guidance.
Do not flush the toilets! It will just make the situation worse.
Do not touch raw sewage with your bare hands. It's best to avoid the area until it's been professionally cleaned, but if you do have to be there, wear rubber gloves.
Don't try to clean it yourself. Commercially available cleaning products and equipment aren't designed for sanitization at this level, and without the right training, you can expose yourself to bacteria and other biohazards. Call a professional cleaning company.
Sewer Backup Cleaning Services and Cost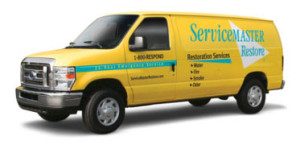 If you experience a sewage backup in your home or business, call the sewage removal professionals at ServiceMaster DDR. We have the training, experience and equipment to safely and quickly clean and sanitize properties in the Palo Alto, CA area and make them safe to occupy again.
Our water mitigation technicians will arrive within 1-2 hours of your initial call to stop the spread of the damage and begin the restoration.
The cost to restore the water damage from a sewage backup varies, depending on how far the sewage spread in the home. Additional factors include replacing flooring or carpet and drywall in finished basements. According to CostHelper.com, the cost to clean and repair the damage can range from $2,000-10,000.