ServiceMaster DRR
Serving Cupertino, CA area 24/7/365
Call: (415) 584-6100
No one is ever ready to deal with a situation involving a serious injury or death when it occurs but it is important for your safety to know what to do if you encounter such a situation.  The scene of an accident or violent crime often contains biohazard materials such as blood and bodily fluids that need to be cleaned up by a certified professional and if the scene is a crime scene, it is important that you contact law enforcement officials as well.  ServiceMaster Disaster Restoration and Recovery provides trauma, vandalism, and crime scene cleaning services in Cupertino, CA to clean up and remove all types of biohazard materials as well as disinfect and restore the area.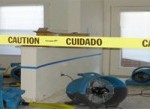 Every technician at ServiceMaster DRR has the right training and specialized certification to safely restore trauma and crime scenes and we can also restore property damage caused by vandalism.  There are several types of biohazard materials that can be found at trauma and crime scenes including blood, tissues, and other bodily fluids and if they are handled improperly, there is a much greater risk of spreading infection or disease.  We use the most advanced cleaning equipment in the industry to effectively remove any type of biohazard material while staying protected with personal protective equipment (PPE), and we are trained to work with law enforcement on a crime scene without compromising the investigation.
The following steps are included with our trauma, vandalism, and crime scene cleaning services:
Decontamination: We will completely disinfect and decontaminate the whole scene after removing all biohazard materials.
Deodorization: We use powerful deodorizers to remove any lingering odors.
Proper Disposal: Once the biohazard materials are removed, they are taken to a licensed medical waste facility that can dispose of them safely.
Continuous Monitoring: We work quickly and efficiently to complete the job with our continuous monitoring and communication.
Family Assistance and Support: Those who have lost a close friend or family member often have a difficult time coping with the situation and we can put those who need additional support in touch with counseling professionals.
Certified Technicians: We have all the training and certification required to clean up biohazard materials in compliance with local and state government regulations.
Accidents and violent crimes involving an injury or death require immediate attention from EMTs and law enforcement officials as well as professionals that can safely clean and restore the scene.  If you experience or encounter this type of situation in Cupertino, CA, contact ServiceMaster Disaster Restoration and Recovery for trauma and crime scene cleaning services.  We are available 24 hours a day at (800) 439-8833 to provide a quick, discreet response.
---
Related services:
Trauma, Vandalism, and Crime Scene Cleaning Services – Santa Clara, CA
Trauma, Vandalism, and Crime Scene Cleaning – San Mateo, CA
Vandalism, Trauma and Crime Scene Cleaning – Palo Alto, CA
Trauma and Crime Scene Cleaning Services – San Carlos, CA
Vandalism and Crime Scene Cleaning Services – Sunnyvale, CA
Crime Scene, Vandalism, and Trauma Cleaning for Foster City, CA 94404
Trauma, Vandalism and Crime Scene Cleaning – San Francisco CA