ServiceMaster DRR
Serving Santa Clara area 24/7/365
Call: (415) 584-6100
Many homes and businesses in Santa Clara, CA have dealt with flooding which can lead to extensive damage if the water is not immediately removed.  There are several potential causes of indoor flooding including heavy rain, plumbing leaks, burst pipes, and even sewage backups.  Excessive amounts of water can cause structural damage very quickly, making it crucial to remove flood water as soon as possible.  ServiceMaster Disaster Restoration and Recovery provides flood damage restoration services to remove flood water from homes and businesses in Santa Clara, CA.  Our technicians will ensure that the flood water is completely removed and restore the resulting damage.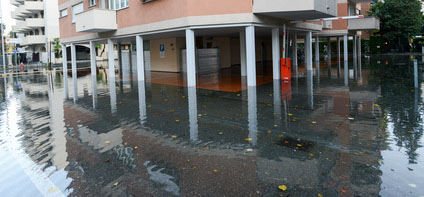 Standing flood water can cause severe structural damage by getting absorbed in building materials and furnishings such as wood, flooring, and drywall.  Indoor flooding also raises the risk of mold growth, making it important to call for flood damage restoration services right away.  At ServiceMaster DRR, our technicians have more than 35 years of combined experience and can handle severe flooding in just about any home or building.  We will immediately remove the standing flood water using advanced water extraction equipment and thoroughly dry affected furnishings, structural elements, and other objects with strategically placed drying and dehumidification equipment.  We are also prepared to provide specialty cleaning services if necessary including carpet and upholstery cleaning as well as content cleaning and pack-outs.
Make sure to follow these tips if there is flood water in your home or building:
Do not attempt to remove flood water with a vacuum cleaner.
Do not use electrical appliances if you are standing on a wet floor.
Shut off the electricity before entering an area with standing water.
Let our professionals remove permanent carpeting because improper removal can cause shrinkage.
Contact ServiceMaster DRR as soon as you can to limit the damage and reduce the risk of mold growth.
Sewage Backup Flooding
Indoor flooding is difficult enough to deal with but if there is also sewage involved, the situation can be hazardous to your health.  Sewage water usually consists of harmful materials including viruses, bacteria, and E-Coli and mishandling it greatly increases the risk of spreading illness or infection.  At ServiceMaster DRR, our technicians are prepared and equipped to safely remove sewage water from your home or business.  Once the water is removed, we will disinfect all affected surfaces, objects, and materials to remove the threat of negative health effects.
Excessive flooding in your home or office can be damaging and even dangerous if it contains sewage.  Make sure you call ServiceMaster DRR right away if you have experienced indoor flooding in Santa Clara, CA so our technicians can remove the water and restore the area.  You can reach us 24 hours a day at (800) 439-8833 to respond to flood damage emergencies.
---
Related services:
Water Damage Restoration Services – San Francisco, CA
Sewage Backups and Water Damage Cleanup Services – San Carlos, CA
Water Damage Restoration Services – Sunnyvale, CA
Water Damage Restoration – Foster City, CA
Sewage Backup and Flood Cleanup – Cupertino, CA
Flood Damage Restoration – Palo Alto, CA
Flood Cleanup Services – San Mateo, CA
Flood Damage Restoration – San Carlos, CA
Flood Cleanup Services – San Francisco, CA
Flood Damage Cleanup – Palo Alto, CA
Flood Cleanup Services – Sunnyvale, CA