ServiceMaster DRR
Serving Foster City area 24/7/365
Call: (415) 584-6100
Hoarding is not an issue that should be taken lightly as millions of people in the U.S. struggle with hoarding disorder and the behaviors associated with hoarding can threaten the health and safety of those within the home.  Those that struggle with hoarding disorder are suffering from larger anxiety issues that prevent them from throwing anything away, allowing a hoard of collected items to build up in their home and create hazardous and unhealthy living conditions.  As the hoard grows, access throughout the home may become restricted, the risk of a fire will increase, and bacteria and other dangerous substances growing within the hoard will increase certain health risks.
In recent years, the approach to hoarding cleaning has been changed to provide more effective services as we have gained a better overall understanding of the mind of a hoarder.  ServiceMaster Disaster Restoration and Recovery provides hoarding and estate cleaning services in Foster City, CA with a more modern approach recently created by ServiceMaster Restore and Matt Paxton, host of A&E's Hoarders.  Our new approach is based on establishing a sense of mutual trust and respect with the affected individual and making sure they get final say on the fate of their hoarded objects.  With our 60 year legacy of providing quality cleaning services along with the most advanced cleaning products and equipment of the industry, we can help clean up and restore any case of hoarding.
The hoarding cleaning process cannot begin until the affected individual has reached out for help and many who struggle with hoarding do not do this on their own because they are usually embarrassed.  A close friend or family member normally must step in and help the individual understand the seriousness of the situation.  The individual must then decide for his or herself to begin the hoarding cleaning process and our technicians will help them make decisions regarding their hoarded objects as we clean the home.
The following basic steps are included with our hoarding cleaning services:
Locating and saving valuable items including jewelry, money, and others
Complete removal of any unwanted items and debris
Help with decisions regarding what should be kept, donated, thrown away, or recycled
Delivery of donated items to a non-profit organization of choice
Help delivering saved items to friends and family members
Help with required paperwork from government agencies and lawyers
Our new hoarding cleaning approach is built on trust and respect with the individual while giving them an element of control over the fate of their objects.  These services consist of the following 3 phases:
Phase 1: Building a Personal Connection
Before going into the home, we try to assess the scope of the problem the best we can.
We come up with a cleaning process agreed upon by the individual and their family with the individual having final say. Before the cleaning begins, we will bring in a social worker or therapist if it is deemed necessary.
We work to establish mutual feelings of trust and respect with the individual before implementing the cleaning plan.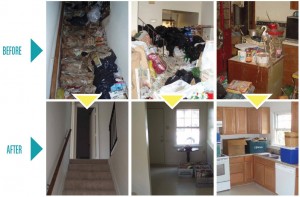 Phase 2: Developing a Cleaning Plan
The individual and their family help us create and implement the cleaning plan.
Saved items are cleaned and sanitized and once all unwanted items are removed, we will help reorganize the home.
Unwanted items will be thrown away, donated, or recycled and we will save the documentation for donated items.
Phase 3: Post Cleaning Follow Up
We help create a cleaning plan that the individual and their family can follow to keep the home in good condition.
We will do a phone follow up to ensure that the cleaning plan is being followed and return to provide further cleaning services if needed.
We keep the individual in control of the entire process and work quickly and efficiently to get the job done.
People that struggle with hoarding create dangerous living conditions in their homes that can seriously threaten their health and safety which is why it is important to reach out to those affected.  If you know someone in the Foster City, CA 94404 area that needs help with their hoarding issues, contact ServiceMaster Disaster Restoration and Recovery for hoarding and estate cleaning services.  We take an honest and respectful approach that puts the individual in control of the process and we can effectively restore safe living conditions in even the most extreme cases.  Call us anytime 24 hours a day at (800) 439-8833 for more information about our hoarding cleaning services.
---
Hoarding estimates – Get a Quote
---
Frequently Asked Questions About Hoarding Cleanup

Related services:
Hoarding and Estate Cleaning Services – Santa Clara, CA
Hoarding Cleanup / Estate Cleaning – San Mateo, CA
Hoarding and Estate Cleaning – Palo Alto, CA
Hoarding Cleaning and Estate Cleaning Services – San Carlos, CA
Hoarding and Estate Cleaning Services – Sunnyvale, CA
Hoarding and Estate Cleaning – San Francisco, CA 
Estate and Hoarding Cleaning Services – Cupertino, CA
---
Reviews:
Review by Herlinda
Hoarding Cleaning
Rating

"Quick and excellent service. The two techs who came were very professional, knowledgeable, kind, and thorough, leaving nothing to chance. If you are ever in a situation like this, call these guys. You will be glad you did. Keep up the good work guys."
---
Review by Shelley
Estate Cleaning
Rating

"Both my wife and I found your technician Scott to be very professional. He was prompt, followed through with everything he said he'd do and was courteous and thorough."