ServiceMaster DRR
Serving Palo Alto area 24/7/365
Call: (415) 584-6100
Hoarding is a very serious disorder that can have a negative impact on the lives of those that struggle with the disorder as well as their families.  Anxiety is typically at the root of hoarding behaviors as those affected cannot part with or dispose of any object, allowing a hoard of items to slowly grow in the home.  The collection of items can eventually grow large enough to block off parts of the home which can be extremely dangerous in an emergency and allow mold and bacteria to grow which can affect the health of everyone in the home.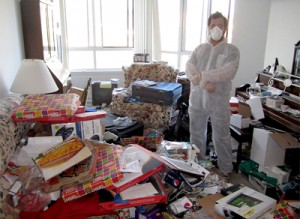 ServiceMaster Disaster Restoration and Recovery provides hoarding and estate cleaning services that combine a new compassionate approach along with our 60-year legacy of providing quality cleaning services in the Palo Alto, CA area.  ServiceMaster Restore has recently developed a new procedure for hoarding cleaning services in collaboration with the host of Hoarders, Matt Paxton that emphasizes building a personal relationship with the affected individual based on trust and respect before beginning any cleaning.  It is also important to give the affected individual the final say on whether to throw away, keep, or donate the hoarded items so that they maintain an element of control.
The hoarding cleaning process cannot begin until the individual agrees to allow a professional to clean out their home.  Those that hoard do not often seek out help themselves because they are embarrassed by the conditions inside their home.  A friend or family member that the individual trusts must approach them to help them understand the importance of cleaning their home and the dangerous implications if they do not.  Our technicians work with the individual and their family to create a cleaning plan and we use the best cleaning products and equipment of the industry to clean and disinfect the home once the unwanted items are removed.
The hoarding and estate cleaning services we provide consist of these basic steps:
Saving of valuable items such as jewelry and money
Removal of unwanted hoarded items and other debris
Help sorting hoarded items and deciding what to donate, keep, recycle, or throw away
Taking donated items to a non-profit of the individual's choosing
Delivering items to family and friends
Assistance with the paperwork from attorneys and government agencies
Hoarding Cleaning Process
The hoarding cleaning process that was created by ServiceMaster Restore and Matt Paxton is done in 3 main phases.
Phase 1: Build Personal Relationship through Trust and Respect
We try to evaluate the extent of the hoarding problem before entering the home.
We sit down with the individual and their family to create a cleaning plan that heavily involves the affected individual. If additional counseling is needed, we will seek the help of a professional at this stage.
We establish a personal connection with the individual to earn their trust and respect before beginning the cleaning.
Phase 2: Implementing the Cleaning Plan
The cleaning plan we create with the individual is implemented and followed.
We will completely remove all unwanted items and clean and reorganize what is left.
We can take unwanted items to throw away, recycle, or donate them and we will document all items that are donated.
Phase 3: Post Cleaning Follow Up
After the cleaning process is complete, we help create a cleaning plan for the individual to keep the house clean.
We do a follow up on the phone to see if the cleaning plan is being followed or if we need to return for additional cleaning.
We leave the ultimate decision on all hoarded items with the affected individual so that they have control in the process.
Hoarding is a disorder that must be dealt with immediately because over time, the behaviors associated with hoarding can create conditions in a home that will threaten the health and safety of those inside.  If you know someone in Palo Alto, CA with a hoarding problem that has deteriorated the condition of their home, contact ServiceMaster DRR for our hoarding and estate cleaning services.  You can call us at (800) 439-8833 for more information about how we can help with our hoarding cleaning services.
---
Hoarding estimates – Get a Quote
---
Related services:
Hoarding and Estate Cleaning Services – Santa Clara, CA
Hoarding Cleanup / Estate Cleaning – San Mateo, CA
Hoarding Cleaning and Estate Cleaning Services – San Carlos, CA
Hoarding and Estate Cleaning Services – Sunnyvale, CA
Hoarding and Estate Cleaning – Foster City, CA 94404
Estate and Hoarding Cleaning Services – Cupertino, CA
Estate and Hoarding Cleaning – San Francisco, CA 
---
Reviews:
Review by Herlinda
Hoarding Cleaning
Rating

"Quick and excellent service. Kudos to a great team."
---
Review by Shelley
Estate Cleaning
Rating

"Both my wife and I found your technician Scott to be very professional. He was prompt, followed through with everything he said he'd do and was courteous and thorough."